Our work is licensed under Creative Commons (CC BY-NC-ND 3.0). Feel free to republish and share widely.
Abby Zimet
Abby Zimet has written CD's Further column since 2008. A longtime, award-winning journalist, she moved to the Maine woods in the early 70s, where she spent a dozen years building a house, hauling water and writing before moving to Portland. Having come of political age during the Vietnam War, she has long been involved in women's, labor, anti-war, social justice and refugee rights issues. Email: azimet18@gmail.com
We know it's always darkest before the dawn. But GOOD NEWS! Our blessed Racketeer-In-Chief - now facing, it's true, four criminal indictments encompassing 91 counts that carry 712 years behind bars, including a vast Georgia rap for election interference charging him with 13 felonies and 161 overt acts under the RICO Act in a state with atypically harsh rules on bail and pardons - will soon issue a "Detailed but Irrefutable REPORT" that will bring "a complete EXONERATION!" Whew that was close. Go MAGA!
In his fourth, inglorious indictment in Georgia's Fulton County - historic home to Martin Luther King, John Lewis, Raphael Warnock, Stacey Abrams and other luminaries of the "cradle of the civil rights movement" - Trump was charged, along with 18 other crooks, liars and co-conspirators, with a sprawling conspiracy to overturn the 2020 election and the will of the people. The "exceptionally detailed," sweeping, 98-page document - in contrast to Jack Smith's purposefully narrow dossier - accuses 19 defendants of a 161-act criminal conspiracy encompassing 41 felonies under Georgia's RICO (Racketeer Influenced and Corrupt Organizations) Act, including racketeering, forgery, computer theft, computer trespass, filing false documents, tampering with voting machines, influencing witnesses, impersonating a public officer and conspiracy to defraud the state, acts that together "constituted a criminal organization whose members and associates engaged (in) criminal activities in furtherance of the conspiracy." Those associates include a laundry list of shady sidekicks and lawyers, from the habitual - Giuliani, Meadows, Eastman, Ellis, Powell, Clark, Chesebro - to lesser-known Georgia GOP pols. Despite the broad net, the driver of the clown car remains the tiny-fingered Trump - charged with 13 felonies, damningly mentioned over 100 times.
This "gorgeous justice" was crafted by Fulton County District Attorney Fani Willis, who launched her investigation after the infamous audio of Trump urging Secretary of State Brad Raffensperger to "find" 11,780 votes, which is one more than we have" - a conversation Trump persists in calling not just "perfect" but "even more perfect" than his mob-style 2019 call to Zelenskyy asking for the "favor" of investigating Biden, 'cause thugs gonna thug. Willis' indictment meticulously lays out a step-by-step chronology, starting days before the election with Trump saying he planned to declare victory even if he lost - "an overt act in furtherance of the conspiracy" - ending with a slate of fake electors and Jan. 6. Willis based her charges on the findings of a special grand jury that wrapped up its work in February after interviewing over 75 witnesses and asserting by unanimous vote that "no widespread fraud took place in the Georgia 2020 presidential election." They lacked the authority to issue indictments, but did offer six pages of recommendations on whom to indict for what. From their work, Willis begat what Charlie Pierce dubs "an epic, the Odyssey of ratfucking." Added to the sweetness: The fact that Willis, like most of those who've called Trump to grave legal account, is a Black woman. (Pierce again: "Sing to me, o Muse").
After announcing the indictment, Willis said arrest warrants had been issued for all 19 defendants, who have until Aug. 25 at noon to surrender; she added she will seek a speedy trial to begin in the next six months. Despite the press frenzy, orange barricades set up outside the courthouse, and racist threats, slurs and lies she's been
subject to,
including
from Trump
- "It's what I have come to expect" - Willis was
matter-of-fact
about the proceedings. "The law is completely nonpartisan," she said. "To date, this office has indicted, since I've been district attorney, over 12,000 cases...We follow the same process, we look at the facts, we look at the law, and we bring charges." Still, many say the Georgia charges pose
unprecedented
hazards to Trump for multiple reasons, and not least because it's "the first time a former president has been
indicted...
since last week." Entering what one piece politely dubs "
new legal terrain"
in Georgia, he's unwittingly landed in "his
nightmare
jurisdiction," or more brutally
"absolutely the
worst
state to FAFO," aka fuck around and find out. With Trump facing state not federal charges in a state with particularly harsh criminal strictures, experts earlier
outlined
the gloomy or joyful issues, depending on your perspective, in "What To Expect When You're Expecting An Indictment in Georgia.
For starters, fulfilling many Americans' dreams, Sheriff Pat Labat has promised a mugshot as for any other perp: "It doesn't matter your status - we'll have a mugshot ready for you." He said Trump will undergo other standard procedures - intake, fingerprinting, medical screening - at the "unhygienic," "overcrowded" Fulton County jail - not a lofty courthouse like other cases. Also unlike New York and D.C., the ruination will be televised: Georgia law requires cameras be allowed in court with a judge's approval, typically granted unless a minor is involved, "to promote access to and understanding of court proceedings." Delightfully, Georgia also has very strict bail laws that only allow a court to release someone if they pose no risk of flight, committing another crime, or "intimidating witnesses or otherwise obstructing...justice" - which Trump has already boisterously, repeatedly done in other cases. Finally - thanks to corrupt 1930s Gov. and KKK Grand Titan" E.D Rivers, who sold so many pardons he kept pre-signed blanks with him - Georgia is one of only a few states where the governor has no pardon power, that being entirely in the hands of an appointed Parole Board with especially strict guidelines: A pardon can only be granted to offenders who've served their time, face no "pending charges," and for five consecutive years after sentencing have "remained free of criminal involvement."
Besides, even a (God forbid) GOP president's pardon power can't touch a state case, and a defiant Gov. Brian Kemp, who re-certified Georgia's votes for Biden after even the GOP legislature refused to certify fake Trump electors, would be unlikely to pardon the sore loser who's been bad-mouthing him ever since - and whose ongoing losing streak in the state has seen the victories of Warnock and Ossoff, the GOP lose the Senate, the survival of Kemp and Raffensperger, and the debacle that was his endorsement of a moronic Herschel Walker. In one final blow, Kemp resurfaced this week to give him yet another finger. "The 2020 election in Georgia was not stolen," he tweeted after the indictment landed. "For nearly three years now, anyone with evidence of fraud has failed to come forward (and) prove anything in a court of law..."Our elections in Georgia are secure, accessible, and fair and will continue to be as long as I am governor. The future of our country is at stake in 2024 and that must be our focus." Still, the GOP whining and wailing took off. Mike Davis, a school board member or coach or entrepreneur who somehow got on TV, ranted Kemp should pardon Trump and never mind stupid laws: "It is only illegal to object to elections in Third World Marxist hell-holes and now in New York, DC and Atlanta."
The rest of the MAGA clan didn't make much more sense. Ever-aggrieved Ted Cruz, who once called Trump an "utterly amoral... pathological liar" and "mobster" with a "pattern of inciting violence" and being "surrounded by sycophants" but who in 2020 voted, sycophant-like, to overturn the election in a historic abuse of power, raged about Democrats' abuse of power. "I'm pissed," he yelled. "We've never once indicted a former president (except the last three times)..It is an abuse of power by angry Democrats who've decided the rule of law doesn't matter anymore." Jenna Ellis, a co-conspirator and much-censured lawyer now crowdfunding for her legal fees after Trump angrily refused to give her "one penny" (not that he would anyway) for supporting DeSantis, asked God to save her. Atop a flowery "wine-mom-font" declaring "Even so, it is well with my soul," she decried Democrats and vowed, "I am resolved to trust the Lord and I will simply continue to honor, praise, and serve Him." Online heathens had thoughts: "The Lord sayeth do not racketeer bigley and haveth remorse for worshipping Orange Him." Also, any vile evangelical homophobe who trashed the victims of the Pulse shooting as non-Christians "now reaping the consequences of eternal damnation" can go fuck herself and reap the consequences of eternal damnation.
Then there's the all-caps, still-seething Trump. On Truth Social, "the saddest site on the Internet," the spewing hasn't stopped. Earlier, "I UNDERSTAND (that) PHONEY (sic) FANI WILLIS WANTS DESPERATELY TO INDICT ME...I DIDN'T TAMPER WITH THE ELECTION! THOSE WHO RIGGED & STOLE THE ELECTION WERE THE ONES DOING THE TAMPERING, & THEY ARE THE SLIME THAT SHOULD BE PROSECUTED!" After the indictment: "The Witch Hunt continues! 19 people Indicated (sic) tonight, including the former President of the United States, me, by an out of control and very corrupt District Attorney." There is slimy dog-whistling on Willis, a "young racist" having an affair with a gang member (not), and dog-whistling beyond dog-whistling with a cringey, "They never went after those that Rigged the Election. They only went after those that fought to find the RIGGERS!." There is a desperate, imaginary, "large, Complex, Detailed but Irrefutable REPORT" on election fraud that "will be presented by me at a major News Conference" - sorry shades of Four Seasons Landscaping - on Monday at Bedminster. "Based on the results of this CONCLUSIVE Report, all charges should be dropped against me & others," he screeches. "There will be a complete EXONERATION!" Finally, there is flagrant, frenzied, ongoing witness tampering in real time. MSNBC's Katie Phang: "This is going to go so very badly for Trump." Oh please, oh please.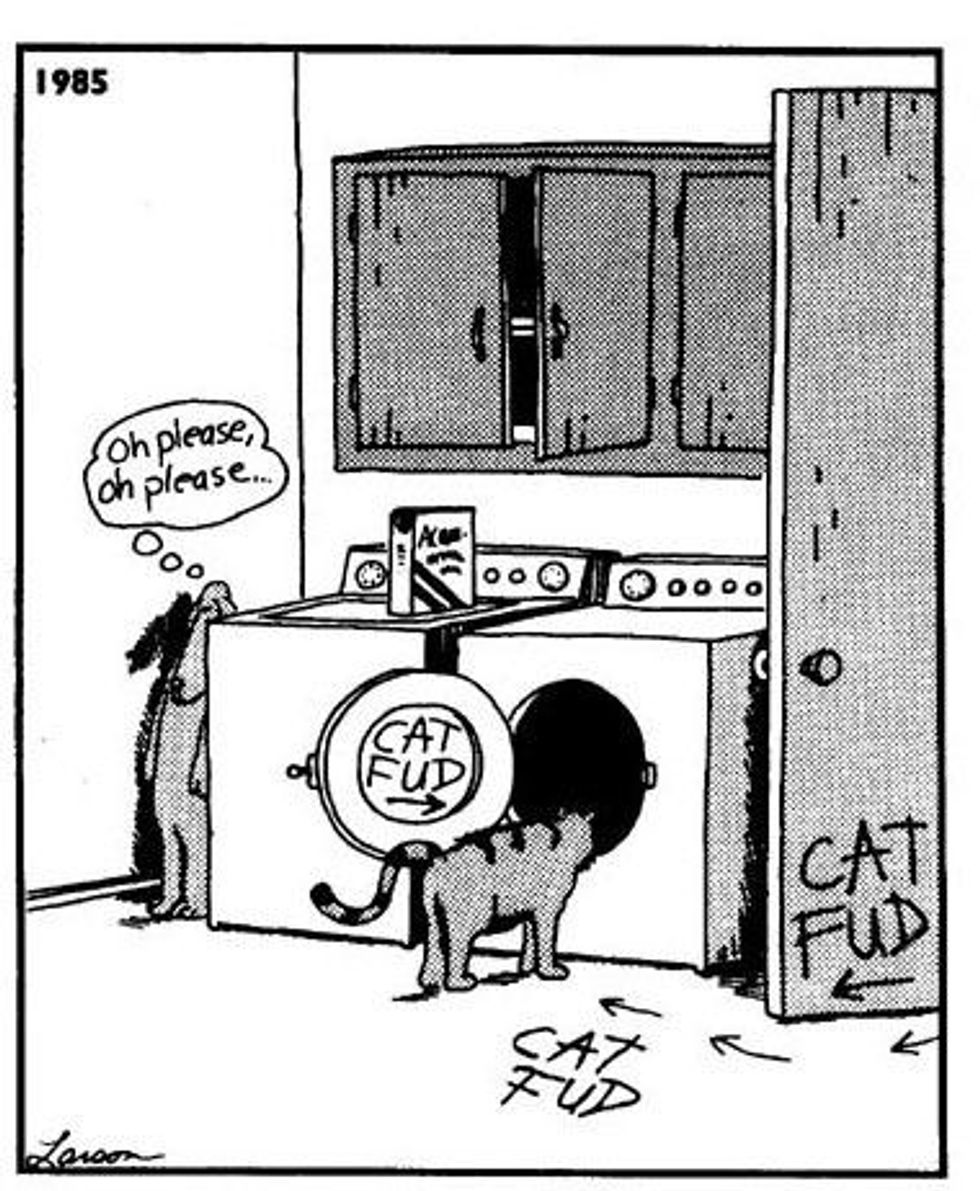 Cartoon by Gary Larson, The Far Side
We've had enough. The 1% own and operate the corporate media. They are doing everything they can to defend the status quo, squash dissent and protect the wealthy and the powerful. The Common Dreams media model is different. We cover the news that matters to the 99%. Our mission? To inform. To inspire. To ignite change for the common good. How? Nonprofit. Independent. Reader-supported. Free to read. Free to republish. Free to share. With no advertising. No paywalls. No selling of your data. Thousands of small donations fund our newsroom and allow us to continue publishing. Can you chip in? We can't do it without you. Thank you.