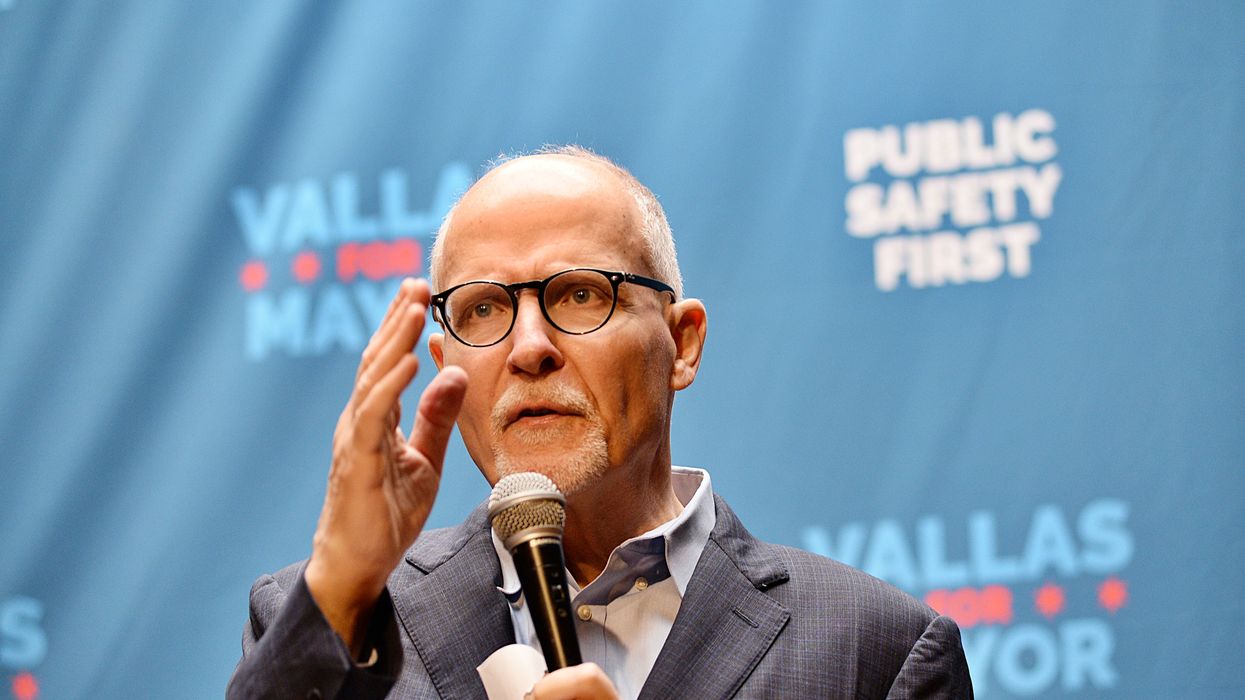 "We've literally seen this man destroy public education, sadly for Black and Brown children," said one parent.
With Chicago's closely watched mayoral runoff just two days away, the campaign of progressive Cook County Commissioner Brandon Johnson debuted an ad on Sunday featuring expert and parent testimony on conservative candidate Paul Vallas' education record, including his stints managing school districts in Chicago, Philadelphia, and New Orleans.
The picture they painted was not flattering. One New Orleans parent, identified as Kevin G., said that "Paul Vallas has left a trail of destruction, everywhere he goes."
"We've literally seen this man destroy public education, sadly for Black and Brown children," he added.
Kendra Brooks, a Philadelphia parent and city councilmember, offered a similarly scathing assessment during her appearance in the ad, which the Johnson campaign said will air on broadcast and cable across Chicago until Tuesday's runoff.
"I think folks in Chicago should look at the destruction that he has left behind," said Brooks. "Money was being spent carelessly. Millions of dollars are missing, at the loss of Black and Brown communities."
Watch the two-minute spot:
Vallas' is an ardent school privatization advocate who served as CEO of Chicago Public Schools from 1995 to 2001 before moving on to head the School District of Philadelphia and the Recovery School District of Louisiana.
As The TRiiBE's Jim Daley wrote in a detailed examination of Vallas' record:
In each city, he opened charter schools, promoted military schools, and expanded standardized testing and zero-tolerance disciplinary policies. He also ran school districts in Haiti and Chile between 2010 and 2012...

Under Vallas' tenure, Philadelphia underwent what was then the largest privatization of a public school system anywhere in the country. He opened 15 new charter schools over the protests of the Philadelphia Federation of Teachers, who called for a moratorium on new charters in 2006.

In New Orleans, Daley continued, Vallas "immediately set to work opening more charter schools, and the trend continued after he left."
"New Orleans is now the only city in America with a school district that is entirely made up of charters," Daley noted, "something Vallas also took credit for: he wrote that he 'implemented reforms that created the nation's first 100% parental choice district, with all schools public, non-selective, and nonprofit.'"
Reshansa W., a New Orleans parent and education policy expert featured in Johnson's new ad, said that "everything about education in New Orleans is suffering" due to Vallas' reforms.
"It decimated our middle class," Reshansa added. "He wasn't right for New Orleans. He wasn't right for Philly. He will not be right for Chicago."
\u201cPaul Vallas has spent weeks lying about his "success" in cities like Philadelphia and New Orleans.\n\nBut those who suffered under his policies tell a much different story:\n\n"We have literally seen this man destroy public education, sadly, for Black and Brown children."\u201d

— Brandon Johnson (@Brandon Johnson) 1680447617
The contrasts between Vallas and Johnson on education policy have become central to the April 4 contest—which, if polling is any guide, is set to be razor-close.
Despite mounting criticism of his record, Vallas has pledged to expand charter schools if elected mayor—a promise that may help explain why a super PAC with ties to school privatization zealot Betsy DeVos recently spent $60,000 in support of his campaign.
Vallas' campaign is also backed by rich investors—a class he catered to during his tenure as CEO of Chicago Public Schools.

Johnson, a former public school teacher and organizer with the Chicago Teachers Union, has pledged to prioritize strengthening Chicago's public schools, which have long been badly underfunded.
ChalkBeat Chicagoreported late last month that "if voters pick Johnson, his election would be the crowning achievement in a decade-long grassroots battle waged by the Chicago Teachers Union against mayoral control and many of the controversial policies that came with it, like school closures and charter expansion."
"Johnson opposes adding charter schools and closing small district schools, of which Chicago has a growing number," the outlet noted. "Johnson has talked about getting state lawmakers to ramp up funding increases to the state's funding formula so Chicago and all districts get to so-called 'adequate funding' more quickly. He—and district officials—have also suggested pushing the state to kick in more for Chicago teachers' pensions, which have been underfunded since the mid- to late-2000s."
News