For Immediate Release
Contact:
press@groundworkcollaborative.org
Groundwork's Michael Mitchell Previews Final Jobs Report of 2022
WASHINGTON
Ahead of tomorrow's December Jobs Report, Groundwork's Director of Policy and Research Michael Mitchell released the following statement, cautioning that additional rate hikes will bring more pain to workers and push our economy into a Fed-manufactured recession:
"As workers and families are struggling with higher prices, Chair Powell is hell-bent on bringing down wages and pushing more people out of work with his aggressive interest rate hikes. Tomorrow's jobs report will give us another glimpse into how much damage the Fed has already done.
"If the Fed continues with its dangerous interest rate hikes, we should brace ourselves for more hardship for working people and an unnecessarily painful recession."

The Groundwork Collaborative is dedicated to advancing a coherent and persuasive progressive economic worldview and narrative capable of delivering meaningful opportunity and prosperity for everyone. Our work is driven by a core guiding principle: We are the economy. Groundwork Collaborative envisions an economic system that produces strong, broadly shared prosperity and power for all people, not just a wealthy few.
LATEST NEWS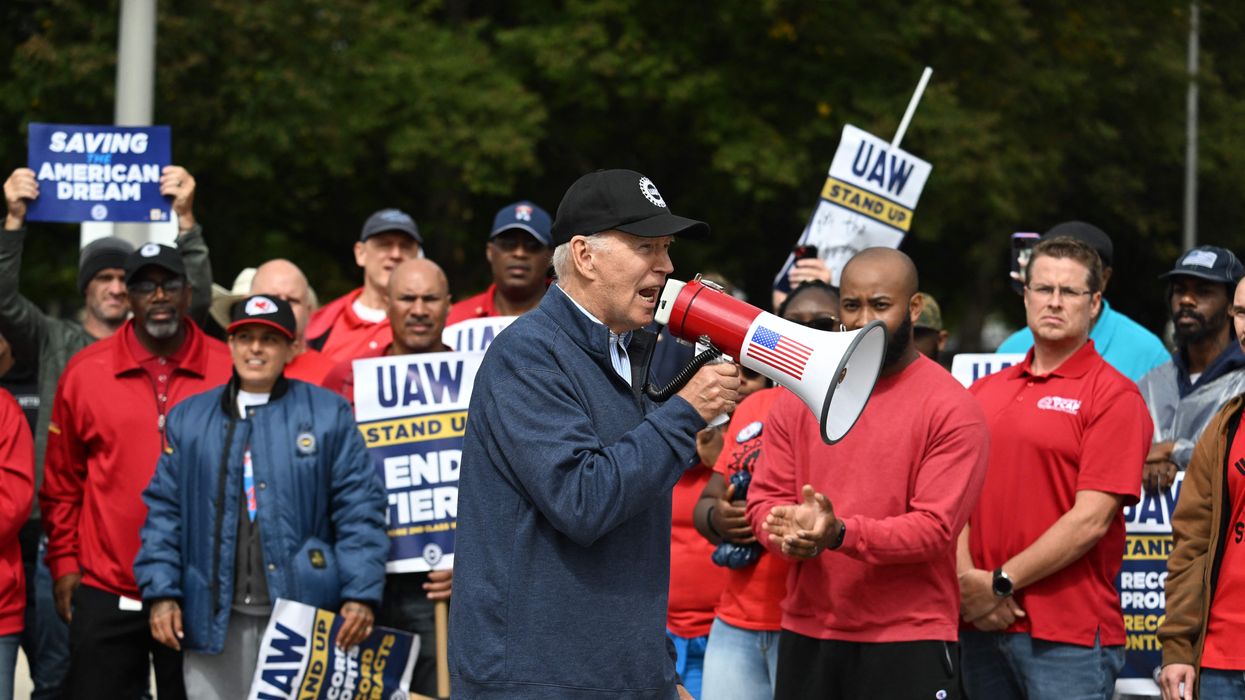 "You deserve what you've earned, and you've earned a hell of a lot more than you're getting paid now," President Joe Biden told Michigan autoworkers.
Joe Biden on Tuesday became the first sitting U.S. president to join striking workers on a picket line, rallying with United Auto Workers members at a General Motors plant in Belleville, Michigan as they fight for a fair contract.
"You saved the automobile industry back in 2008," Biden said in brief remarks to the Michigan workers. "You made a lot of sacrifices, you gave up a lot, and the companies were in trouble. But now they're doing incredibly well. You should be doing incredibly well, too."
"Wall Street didn't build the country, the middle class built the country," the president said. "And unions built the middle class. So let's keep going. You deserve what you've earned, and you've earned a hell of a lot more than you're getting paid now."
The president's visit to the picket line comes days after the UAW expanded its strikes to every General Motors and Stellantis parts distribution facility in the U.S., accusing the two companies of refusing to seriously engage with union negotiators.
More than 18,000 autoworkers in 21 states are currently on strike against General Motors, Ford, and Stellantis, pushing the so-called Big Three automakers to deliver significant pay and benefit improvements after years of surging profits and declining real wages. Survey data released Monday shows that public support for the strikes is growing, with 62% of likely U.S. voters—regardless of party affiliation—backing the walkouts.
Labor historians say they're not aware of any other case of a sitting U.S. president rallying with striking workers in this way.

"This is genuinely new—I don't think it's ever happened before, a president on a picket line," Nelson Lichtenstein, a labor historian at the University of California, Santa Barbara, told veteran labor journalist Steven Greenhouse on Tuesday. "Candidates do it frequently and prominent senators, but not a president."
UAW president Shawn Fain, who accompanied Biden at the Belleville picket line, thanked Biden for "being a part of this fight."
"We know the president will do right by the working class," said Fain, "and when we do right by the working class, you can leave the rest to us, because we're going to take care of this business."
Biden's visited striking autoworkers a day before former President Donald Trump—the GOP's 2024 presidential frontrunner—is scheduled to speak to hundreds of workers at Drake Enterprises, a nonunion auto parts supplier in Clinton Township, Michigan.
Morris Pearl, chair of the Patriotic Millionaires, said in a statement that "the historic significance of President Biden's decision to join striking workers on the picket line cannot be understated."
"Instead of taking on the role of mediator—and falling victim to both-sides-ism in the process—Biden is standing unequivocally with workers who have been denied a share in the prosperity of the Big Three automakers," said Pearl.
"Biden's fight on behalf of workers must not end here," Pearl added. "To ensure his support is more than symbolic, he must use this historic moment to ensure that workers in all industries share in growing prosperity with their employers. While this is an important step, there remains significant work to do. We look forward to seeing which tangible steps President Biden takes to further support American workers."
News
Human Rights Watch looked at 39 loans in 38 countries since the start of the pandemic, and found that 30 of them contained at least one term that threatened human rights.
The International Monetary Fund continues to impose austerity measures that threaten human rights.
That's the conclusion of a Human Rights Watch (HRW) report published Monday that looks at 39 loans approved in 38 countries between the beginning of the Covid-19 lockdowns in March 2020 and March 2023. While, at the start of the pandemic, IMF managing director Kristalina Georgieva spoke of investing in a recovery that was "greener, smarter, and fairer," the majority of the loans reviewed by HRW still included requirements like lower government spending or higher regressive taxes.
"Despite its promises at the beginning of the pandemic to learn from past mistakes, the IMF is pushing policies that have a long track record of exacerbating poverty and inequality and undermining rights," HRW senior researcher and advocate on economic justice and rights Sarah Saadoun said in a statement.
The loans considered in the HRW report impacted countries home to 1.1 billion people, and 30 of them had at least one requirement that put their rights at risk. Twenty-two of them included limits on public wage bills, 23 included regressive value-added taxes, and 20 decreased or eliminated subsidies for fuel or electricity.
While HRW acknowledged that eliminating fossil fuel subsidies is a necessary part of the transition to renewable energy, this needs to be done in a way that takes the needs of the poorest into account. For example, Saadoun toldEuronews of a woman who works seven days a week as a domestic worker in Sri Lanka.
"The impact of the economic crisis there meant her earnings were essentially cut in half. On top of that, in an effort to reduce public spending, the government cut subsidies for electricity," she said. "She and her son had to move in with her mother, meaning that she is completely dependent on her relatives and her employer to survive."
"I can either get medicine (insulin) for my diabetes or pay for my daughter to go to school or keep the lights on at my house."
HRW argues that both the IMF and the governments they loan to have an obligation to address economic crises in ways that further, rather than retrench on, human rights. At the same time, the IMF's austerity measures fail at its own goal of reducing debt. Its April 2023 World Economic Outlook concluded that they "do not reduce debt ratios, on average."
The report looked at the case of Jordan, which has received IMF loans since 2012, yet has a higher debt-to-gross-domestic-product ratio than at the beginning.
Jordan is also an example of how one measure the IMF has introduced to offset the harm of austerity is insufficient. The IMF has taken to relying on social spending floors or means-tested relief programs. Jordan, for example, instituted a cash-transfer program called Takaful in 2019. While poverty in Jordan increased from 15 to 24% between 2018 and 2022, the program only aided approximately 5% of total Jordanians in 2022, or around 20% of those struggling with poverty.
"While the spending floor and Takaful were an improvement over the earlier programs, they are a bandage on a bullet wound," the report authors wrote. "The reforms generated billions in savings and new revenues through measures that increased the cost of living, yet public spending on health, education, and social assistance did not increase as a percentage of the budget."
HRW had several recommendations for what the IMF could do to reform its programs to bolster human rights. They include conducting human rights assessments of the impacts of these programs, setting different social spending floors for essential services such as health and education, and replacing means-tested programs with universal protections.
If these changes are not adopted, Pakistan offers a warning example. There, a July 2022 agreement between the IMF and the government stipulated higher taxes, a market-based exchange rate, and an end to subsidies for energy and fuel, as HRW pointed out.
"I can either get medicine (insulin) for my diabetes or pay for my daughter to go to school or keep the lights on at my house," a 47-year-old Lahore rickshaw driver told HRW. "I can do only one of the three. The IMF should come and see how I am managing my life."

News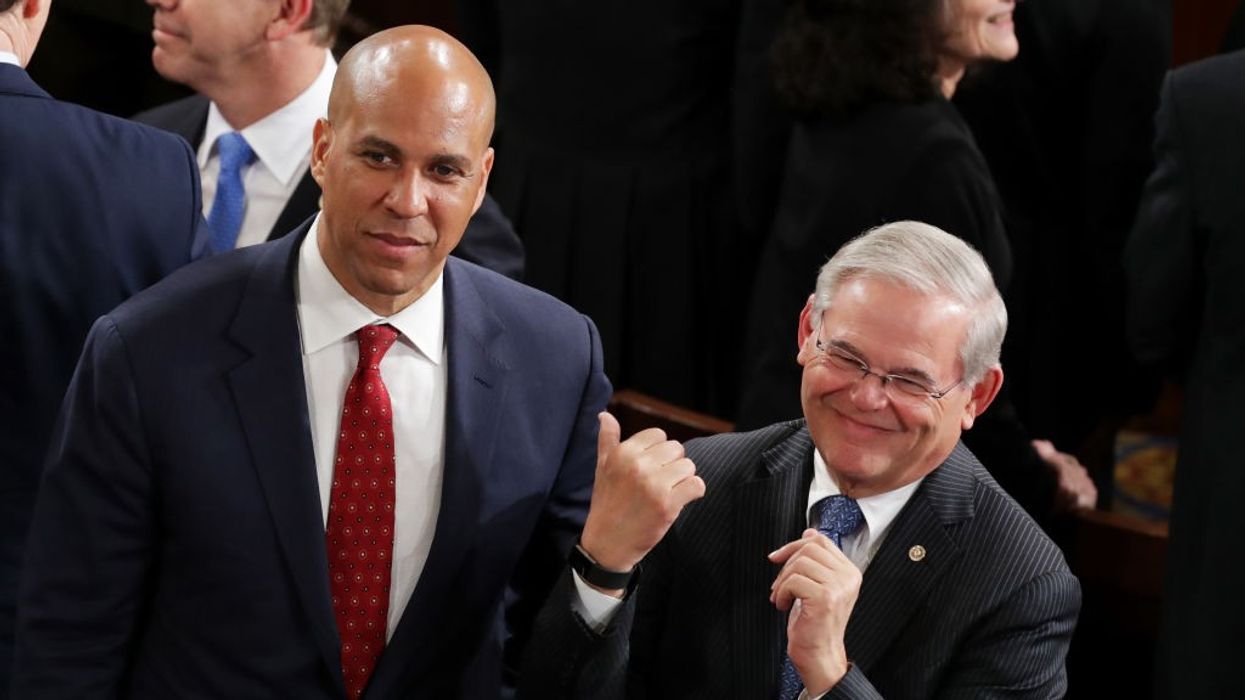 "Stepping down is not an admission of guilt but an acknowledgment that holding public office often demands tremendous sacrifices at great personal cost," said one of New Jersey's U.S. senators to the one facing federal corruption charges.
Sen. Cory Booker on Tuesday called on Sen. Bob Menendez, his fellow New Jersey Democrat in the U.S. Senate, to step aside in the face of a damning federal indictment on corruption charges issued last week.
"As Senator Menendez prepares to mount his legal defense, he has stated that he will not resign," Booker said in a statement. "Senator Menendez fiercely asserts his innocence and it is therefore understandable that he believes stepping down is patently unfair. But I believe this is a mistake."
Booker praised Menendez as a friend and trusted colleague, one with a "boundless work ethic" and who is "deeply empathetic."
This is Menendez's second indictment for corruption, with a first trial over charges brought in 2017 ending in a mistrial.
"It is not surprising to me that Senator Menendez is again determined to mount a vigorous defense," Booker said Tuesday. "And I still believe he, like anyone involved with our criminal justice system, deserves our presumption of innocence until proven guilty. A jury of his peers will make the ultimate decision as to whether he is criminally guilty.
"There is, however, another higher standard for public officials, one not of criminal law but of common ideals," he continued. "As Senators, we operate in the public trust. That trust is essential to our ability to do our work and perform our duties for our constituents."
Booker now joins other Democratic in the upper chamber—including Sens. John Fetterman (D-Pa.), Sherrod Brown (D-Oh.), Tammy Baldwin (D-Wis.), John Tester (D-Mt.), and Bob Casey (D-Pa.)—who have called on Menendez to resign.

On Monday, a defiant Menendez made his first public remarks about the indictment, in which he said the nearly $480,000 in cash and gold bars found in his house was from his own personal savings account over the years, all money he claimed was legitimately earned from his career as a politician and lawmaker.
He said he would not resign, though he acknowledged the legal battle ahead would be tough. Once the process was over, he vowed that "not only will I be exonerated, I will still be New Jersey's senior senator."

In his statement, Booker said, "Stepping down is not an admission of guilt but an acknowledgment that holding public office often demands tremendous sacrifices at great personal cost. Senator Menendez has made these sacrifices in the past to serve. And in this case he must do so again. I believe stepping down is best for those Senator Menendez has spent his life serving."

News
Independent, nonprofit journalism needs your help.
Please Pitch In
Today!