New Report: Corporate Tax Transparency Becoming the Global Norm
Investors, Businesses, and Policymakers Increasingly Take Steps Toward Public Country-by-Country Reporting of Tax Information
WASHINGTON - Public disclosure of multinational corporations' disaggregated profits and taxes is steadily progressing toward a global norm as investors, businesses, and policymakers have increasingly taken steps toward transparency, according to a new study published Tuesday by the Financial Accountability and Corporate Transparency (FACT) Coalition.
The FACT Coalition is a non-partisan alliance of more than 100 state, national, and international organizations working toward a fair tax system that addresses the challenges of a global economy and promoting policies to combat the harmful impacts of corrupt financial practices.
Titled "Trending Toward Transparency: The Rise of Public Country-by-Country Reporting," the report highlights the growing list of enacted and proposed rules around the world to mandate increased disclosures that are promoted among various sectors of the investing, business, and policymaking communities.
"The rapid shift from complete secrecy to increasing transparency has been remarkable," said Gary Kalman, executive director of the FACT Coalition. "Before the financial crisis, no one was seriously talking about disaggregated corporate tax reporting. Fast forward a decade, and 77 countries now require multinationals to file country-by-country reports privately to tax authorities; oil, gas, and mining companies in Europe, Canada, and elsewhere must disclose the information publicly; large banks in Europe also have public disclosure requirements; and the largest sustainable investment standards-setting body has proposed new tax transparency requirements that include public country-by-country reporting."
The report notes the broad and growing array of voices supporting increased disclosure.  Major investors, chief executive officers of multinational firms, standard-setting bodies, and legislators increasingly support and encourage tax transparency measures like public country-by-country reporting.
Never Miss a Beat.
Get our best delivered to your inbox.
"The evidence suggests we are quickly reaching a turning point," said Christian Freymeyer, researcher and author of the report. "Investors see the value, policymakers see the benefits, and businesses see the inevitability of greater transparency. It's only a matter of time before tax transparency is accepted and expected of financial disclosure."
"When representatives from the accounting, investment and tax justice sectors all agree, you know you are headed toward real reform," added Mr. Kalman.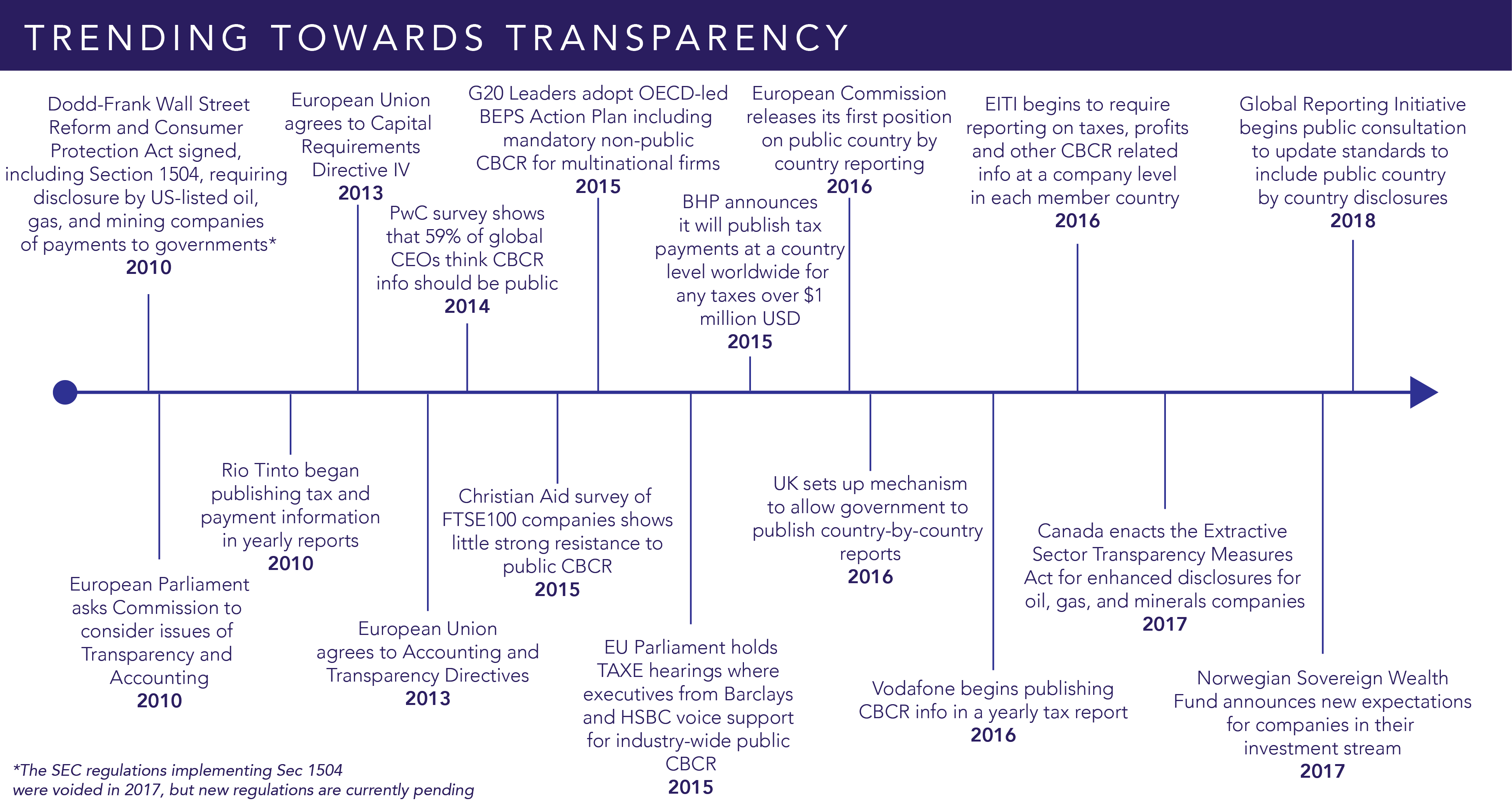 Specific Policy Recommendations
To better inform investors, the report calls on the U.S. Congress, the Securities and Exchange Commission, and the Financial Accounting Standards Board to specifically require multinational corporations to publicly disclose, on an annual, country-by-country basis:
Number of entities;
Names of principle entities;
Primary activities of entities;
Number of employees;
Total revenues broken out by third-party sales and intra-group transactions of the tax jurisdiction and other tax jurisdictions;
Profit/loss before tax;
Tangible assets other than cash and cash equivalents;
Corporate tax paid on a cash basis;
Corporate tax accrued on profit/loss;
Reasons for any difference between corporate tax accrued on profit/loss and:

the tax due if the statutory tax rate is applied to profit/loss, and
the tax due if the statutory tax rate is applied to profit/loss before tax; and

Significant tax incentives.
In addition to public country-by-country reporting, the report recommends a number of additional tax-related disclosures (see pages 25–26), which would be useful to shareholders.
###
Our pandemic coverage is free to all. As is all of our reporting.
No paywalls. No advertising. No corporate sponsors. Since the coronavirus pandemic broke out, traffic to the Common Dreams website has gone through the roof— at times overwhelming and crashing our servers. Common Dreams is a news outlet for everyone and that's why we have never made our readers pay for the news and never will. But if you can, please support our essential reporting today. Without Your Support We Won't Exist.
Please select a donation method:
Founded in 2011, the Financial Accountability and Corporate Transparency (FACT) Coalition unites over 100 different civil society representatives from small business, anti-corruption, faith-based, government watchdog, human rights, investors, labor, public-interest, and international development organizations from across the ideological spectrum.
We seek an honest and fair international tax code, greater transparency in corporate ownership and operations, and commonsense policies to combat the facilitation of money laundering and other criminal activity by the financial system.
Organization Links