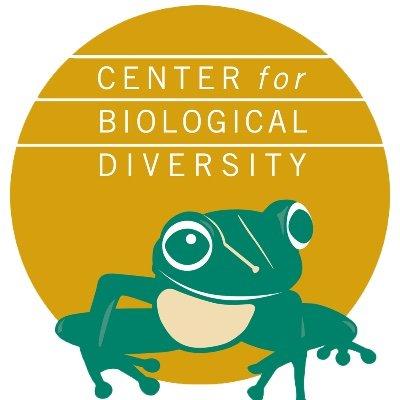 For Immediate Release
Contact:
Noah Greenwald, Center for Biological Diversity, (503) 484-7495
Chris Frissell, Pacific Rivers Council, (406) 471-3167
Roland Knapp, University of California, Sierra Nevada Aquatic Research Laboratory, (760) 647-0034
Court Considers Interim Measures to Protect California's Sensitive Native Fish and Amphibians From Fish Stocking
SACRAMENTO, Calif.
TheSacramento Superior Court has ordered the
California Department of Fish and Game into talks with Pacific Rivers
Council and the Center for Biological Diversity to develop interim
measures to limit harm to native species caused by fish stocking. The
intent is to minimize the adverse effect that hatchery-raised fish
inflict on sensitive native fish and amphibian species while the
Department prepares an Environmental Impact Report under the California
Environmental Quality Act.
"Interim measures
limiting stocking are needed to help save California's native fish and
frogs from extinction," said Noah Greenwald, biodiversity program
director for the Center for Biological Diversity. "Fish and Game should
still be able to stock hatchery fish, but in places where they won't
harm native species."
The court ruled in May 2007
that fish stocking has "significant environmental impacts" on "aquatic
ecosystems" and "in particular, on native species of fish, amphibians
and insects, some of which are threatened or endangered." The court
ordered the Department to analyze and mitigate the impacts of the
stocking program in an Environmental Impact Report, or EIR, by the end
of 2008. The Department returned to court last month to ask for a
one-year extension, to January 2010, because the agency has made little
progress on the EIR.
To reduce the impact of the
Department's delay, the Center and Pacific Rivers Council asked for
interim restrictions on stocking, including not stocking in areas where
sensitive species such as California golden trout, Santa Ana sucker,
mountain yellow-legged frog, and Cascades frog, are known to be present
or where the Department has yet to survey. Judge Patrick Marlette
stated in a tentative order that such interim measures may be
necessary, but gave the Department until November 24th to negotiate an
agreement with the two organizations to determine where stocking could
take place pending completion of the EIR. If no agreement is reached,
the Judge indicated that he would consider limiting stocking only to
water bodies where no at-risk species occur on an interim basis, as
proposed by petitioners.
"The far reaching,
often disastrous consequences of stocking hatchery fish have been known
for decades," said Dr. Chris Frissell, Director of Science and
Conservation for Pacific Rivers Council. "It's far past time the
Department of Fish and Game completed a credible review of the
environmental impacts of its hatchery program and identified the steps
needed to limit its impacts to sensitive native species, as many other
states have done. Interim measures are merely a short-term safety net
to protect vulnerable species and waters until the State meets its
legal mandate to produce a report."
The required
California Environmental Quality Act environmental review will for the
first time provide the public and independent wildlife experts with an
opportunity to actively participate in how the Department can improve
management of the statewide fish-stocking program to better meet the
needs of both California's native species and recreational anglers.
Suspending the stocking of non-native fish in certain areas while the
review is being conducted will allow the Department to keep open as
many options regarding future management as possible by ensuring that
interim stocking does not further jeopardize any of California's
wildlife.
"The Department needs to consider the environmental impacts of its fish-stocking program before
it stocks more fish into aquatic strongholds," said Frissell, who has
published numerous scientific articles on the ecology of native fish
and wildlife species. "This is the only way that the Department can be
sure that it is not causing or contributing to the loss of the last
remaining populations of these native California animals and the
habitat they depend on."
Removing non-native fish
once they have been introduced is difficult, expensive and can cause
further damage to sensitive species. Many of the sensitive fish and
amphibian species are already so seriously depleted by past impacts,
including fish stocking, that even one more year of stocking could
cause irreversible loss of some populations.
"The
mountain yellow-legged frog has disappeared from more than 90% of its
former range in the Sierra Nevada, and introduced trout are an
important cause of this decline," stated research biologist Dr. Roland
Knapp. Likewise, unintended consequences of stocking nonnative trout
without needed precautions have seriously compromised and set back the
State's own conservation and recovery efforts for its imperiled native
golden and redband trout. "On a hopeful note, a cessation of stocking
and the removal of nonnative trout from key sites can allow the
recovery of mountain-yellow legged frogs and other native species."
The Pacific Rivers Council and Center for Biological Diversity are
represented by Deborah A. Sivas of the Environmental Law Clinic, Mills
Legal Clinic at Stanford Law School. For more information about the
lawsuit go to www.pacrivers.org or www.biologicaldiversity.org.
At the Center for Biological Diversity, we believe that the welfare of human beings is deeply linked to nature — to the existence in our world of a vast diversity of wild animals and plants. Because diversity has intrinsic value, and because its loss impoverishes society, we work to secure a future for all species, great and small, hovering on the brink of extinction. We do so through science, law and creative media, with a focus on protecting the lands, waters and climate that species need to survive.
(520) 623-5252
LATEST NEWS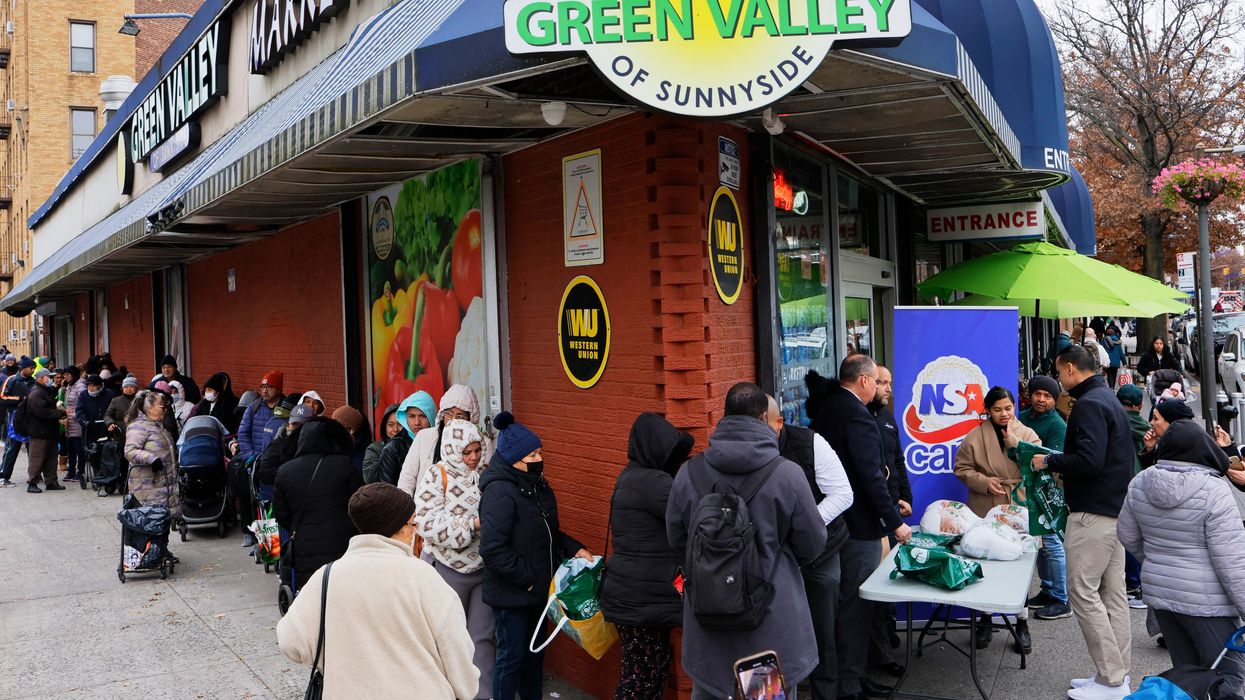 "Effective federal public policies over the previous few years were spectacularly successful in stemming U.S. hunger, but as many of those policies have been reversed, hunger has again soared," said one expert.
Highlighting the end of a yearslong trend of declining hunger in the United States due largely to federal policies like the expanded Child Tax Credit and universal school meals, a report published Wednesday details how the expiration of these programs has fueled a resurgence in food insecurity.
Hunger Free America's (HFA) 2023 National Hunger Survey Report found that "the number of Americans without enough food over a seven-day period was an average of 40% higher in September and October of 2023 than in September and October of 2021."
"Over that time period, the number of people without enough food increased from 19.7 million to 27.8 million nationwide," HFA noted, attributing the rise in hunger to the expiration of the expanded Child Tax Credit and universal school meals.
"Many federal benefit increases have either gone away entirely, or are being ramped down, even as prices for food, rent, healthcare, and fuel continue to soar," the advocacy group added.
Among the report's other findings:
The states with the highest rates of food-insecure children were Delaware (21.4%), Nebraska (21.0%), Texas (20.7%), Georgia (20.0%), Kentucky (19.7%), and Louisiana (19.7%);
Nationally, 9.1% of employed adults in the U.S. lived in food-insecure households during the three-year time period;
The states with the highest rates of food insecurity among employed adults were Arkansas (13.7%), Texas (13.4%), Louisiana (12.5%), South Carolina (12.5%), and Oklahoma (12.4%);
7.6% of older Americans, defined as people 60 years and older, lived in food-insecure households;
Louisiana had the highest rate of food insecurity among older Americans at 13.9%, followed by Mississippi (12.7%), the District of Columbia (12.6%), West Virginia (11.0%), and Oklahoma (10.4%); and
The states with the lowest rates of food insecurity were New Hampshire (6.1%), Minnesota (7.3%), Vermont (7.7%), Colorado (8.4%), and North Dakota (8.6%).
"This report should be a jarring wake-up call for our federal, state, and local leaders," HFA CEO Joel Berg said in a statement.
The new HFA report follows federal data released in November showing the U.S. child poverty rate more than doubled in 2022 compared to the previous year, thanks in large part to the expiration of the expanded Child Tax Credit. Under the policy—part of the American Rescue Plan signed into law by President Joe Biden in March 2021—eligible families received up to $300 per child each month.
However, the program expired at the end of 2021 as congressional Republicans and right-wing Democratic Sen. Joe Manchin of West Virginia opposed its extension. Manchin infamously argued that parents would use the money to buy drugs instead of food for their children.
Meanwhile, congressional Republicans last year blocked the extension of a pandemic-era policy under which public schools offered free breakfast and lunch to tens of millions of children.

"Effective federal public policies over the previous few years were spectacularly successful in stemming U.S. hunger, but as many of those policies have been reversed, hunger has again soared," Berg said on Wednesday. "At exactly the moment when so many Americans are in desperate need of relief, many of the federally funded benefits increases, such as the Child Tax Credit and universal school meals, have expired, due mostly to opposition from conservatives in Congress."
"Just as no one should be surprised if drought increases when water is taken away, no one should be shocked that when the government takes away food, as well as money to buy food, hunger rises," Berg added. "Our political leaders must act to raise wages and provide a strong safety net, so we can finally end U.S. hunger and ensure that all Americans have access to adequate, healthy food."
News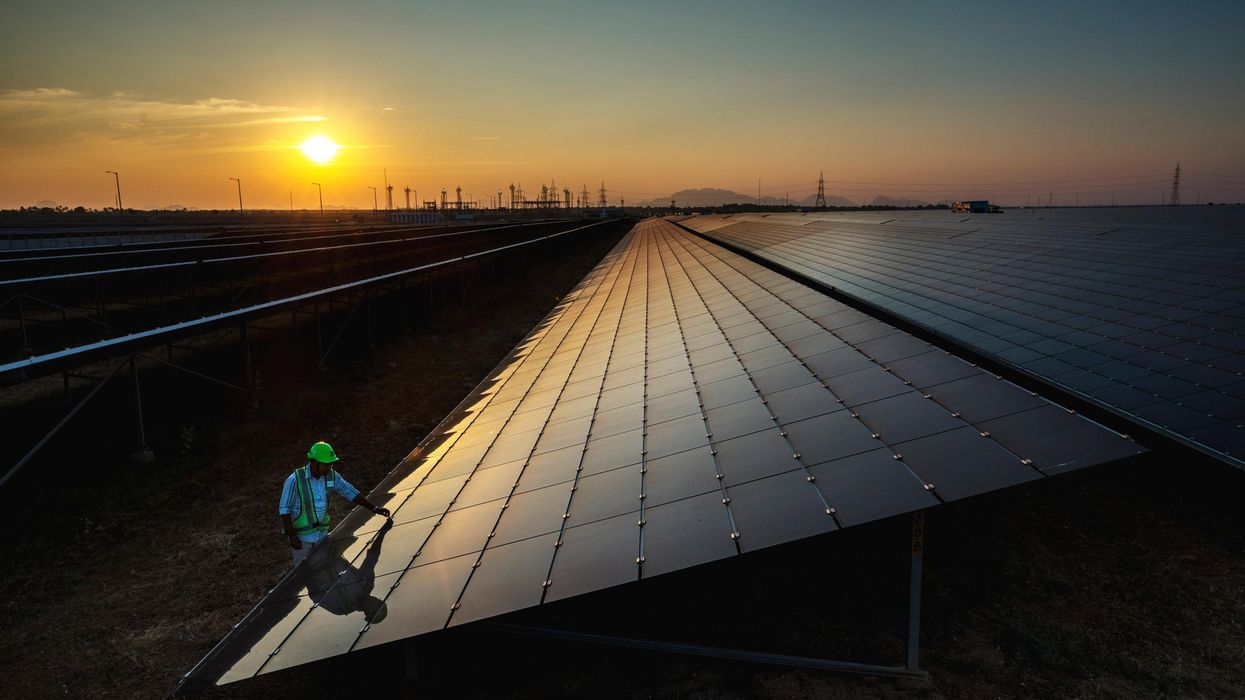 Recommendations include tripling renewable energy capacity by 2030, phasing out fossil fuels by 2050, and providing the Global South with the means to fund its energy transition.
As world leaders prepare to gather at the COP28 global climate talks next week in Dubai, 350.orgpublished a report Wednesday detailing how negotiators can draft a just and effective global transition to renewable energy.
One of the main agenda items at COP28 will be a worldwide target for renewable energy. Yet this target must be accompanied by a 2050 phaseout of fossil fuels and funds to speed the transition in the Global South, 350.org concluded.
"A renewable energy target at COP28 will only constitute a meaningful step towards climate justice if it is accompanied by a clear roadmap for implementation that includes equitable mechanisms and commitments in the financial and policy realms, as well as an urgent and equitable phaseout of fossil fuels," Andreas Sieber, 350.org associate director of global policy, said in a statement. "Without these, any agreement would represent a hollow, 'easy win' for the COP28 President Al Jaber, and risk allowing polluting countries to hide behind a renewables goal while continuing to emit fossil fuels."
"To achieve the proposed global renewable energy target by 2030, massive growth in financial investment into renewable energy is required in the Global South outside China, from both private and public sources."
The report, fully titled Power Up for Climate Justice: Financing and Implementing a 1.5°C-Aligned Global Renewables Target, also details how the target itself can be meaningful.
"For the global renewable energy target at COP28 to address global energy needs and redress fossil fuel dependency, it must include commitments to triple fair, safe, and clean renewable energy capacity by 2030 and deploy 1.5 terawatts per year thereafter, double energy efficiency by 2030, and completely phaseout of fossil fuels by 2050," said 350.org executive director May Boeve.
The report further argues that the target should be based on demonstrably effective technologies like wind and solar power.
"There is no room for dangerous distractions and unproven technologies such as Carbon Capture and Storage, nuclear energy, ammonia co-firing, which do not address the root causes of the climate crisis, and often cannot be implemented at scale," the report authors wrote.
They also emphasized the importance of providing poorer nations with the funds to scale up their renewable energy buildouts.
"To achieve the proposed global renewable energy target by 2030, massive growth in financial investment into renewable energy is required in the Global South outside China, from both private and public sources," Sieber said. "Barriers such as debt and the inequitable cost of capital in the Global South, significantly hinder investment in renewable energy."
Only $260 billion was invested in the Global South in 2022, the report notes, even though the International Energy Agency has said that $1.9 trillion is needed per year by 2030 in order to limit global heating to 1.5°C while providing energy to around 5 billion people—an amount of finance seven times 2022 levels.
The report offers several suggestions for how that funding can be realized, including canceling debt; sending the Global South $100 billion a year in concessional finance, providing it with $200 billion a year in grants; and channeling money away from fossil fuels by taxing profits, shifting subsidies and investments from fossil fuel projects to renewables, taxing wealth, issuing more Special Drawing Rights from the IMF, and using existing infrastructure funds.
The report comes at a crucial time for climate action. This year, 2023, is likely to be the hottest year in 125,000 years, and the U.N. concluded this week that current pledges put the world on course for 2.9°C of warming beyond preindustrial levels. But 350.org argues it's not too late to limit warming with ambitious action.
"The Paris Agreement is the landmark multilateral framework to stop climate change, and COP28—which includes the Global Stocktake of whether the world is on track to meet this target—is a pivotal moment to achieve its intended goal: limiting global heating to no more than 1.5°C," the report authors said.
News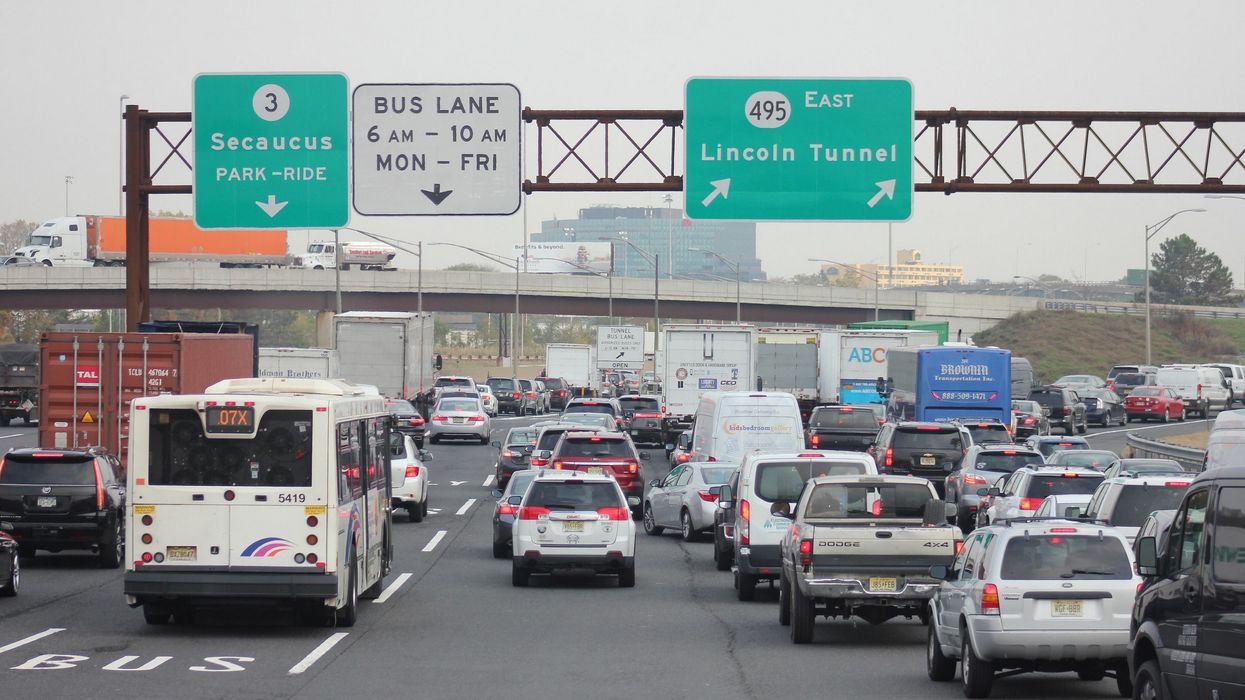 "The steps we take today to lower emissions will improve air quality and mitigate climate impacts for generations to come, all while increasing access to cleaner car choices," said Gov. Phil Murphy.
New Jersey on Tuesday joined eight other U.S. states in committing to phase out new gasoline-powered light-duty motor vehicles by 2035 as a key part of the fight against pollution and global heating—which is primarily caused by burning fossil fuels.
Democratic N.J. Gov. Phil Murphy and state Department of Environmental Protection Commissioner Shawn M. LaTourette announced that they're adopting the Advanced Clean Cars II (ACCII) Rule—developed by California authorities to achieve 100% new zero-emission vehicle sales in 2035—"setting the state on the road toward better air quality and cleaner choices for new car buyers while combating the worsening climate crisis."
The phaseout—which won't begin for a few years—is seen as a major boost for electric vehicles (EVs) and clean power in the state.
As Murphy's office explained:
The rule will take effect starting in model year 2027, providing time for auto industry transition and continued development of charging infrastructure and a more robust and cleaner electrical grid in New Jersey. It does not ban gasoline cars, nor does it force consumers to buy EVs. Rather, the rule will provide certainty to vehicle manufacturers, suppliers, utilities, and charging infrastructure companies to make the long-term investments that will be crucial to large-scale deployment of light-duty [zero-emission vehicles] and consumer choice.
"The steps we take today to lower emissions will improve air quality and mitigate climate impacts for generations to come, all while increasing access to cleaner car choices," Murphy said in a statement. "Indeed, together with my administration's continuing investments in voluntary electric vehicle incentives, charging infrastructure, and the green economy, these new standards will preserve consumer choice and promote affordability for hardworking New Jerseyans across the state."
LaTourette said that "cleaner cars and trucks mean cleaner air for our children and families, because the tailpipes of our own vehicles are a leading cause of poor local air quality."
"As New Jersey transitions to a zero-emission vehicle future, we will improve our quality of life and public health," LaTourette added. "At the same time, we will reduce climate pollutants from the transportation sector, the greatest source of planet-warming pollution in New Jersey and the nation."
Local Democratic leaders, green groups, and climate campaigners welcomed Murphy's announcement.
"As Newark continuously moves toward a healthier and more economically successful community, we welcome the Advanced Clean Cars II Rule, knowing it will reduce emissions that degrade our environment and cause respiratory problems like asthma," Newark Mayor Ras Baraka said.
"As the largest automobile transportation hub and energy generation center in the state, Newark has much to gain through this rule, through greater investment into [zero-emission vehicles], more jobs for city residents, and more availability of these vehicles for motorists," he added.
"This is a huge win not only for the environment, but for public health and the communities who suffer every day from the pollution from congested roadways."
Anjuli Ramos-Busot, director of the New Jersey Sierra Club, called the adoption of ACCII "a historic and monumental step in our transition toward a cleaner transportation sector, and carbon and co-pollutant emission reductions."
"This is a huge win not only for the environment, but for public health and the communities who suffer every day from the pollution from congested roadways," she added.
While the New Jersey Business and Industry Association opposes the adoption of ACCII, Richard Lawton, executive director of the N.J. Sustainable Business Council, welcomed the move, asserting that "consumers and companies are experiencing firsthand how EVs are cleaner, technologically superior, and less costly to operate and maintain than internal combustion engines."
"By accelerating the growth of the EV market, ACCII will spur continued investment and innovation in the transition to a clean energy transportation sector," Lawton added. "Thanks to this decision, New Jersey can look forward to increased economic development, more good-paying jobs, and cleaner air."
New Jersey joins California, Connecticut, Maryland, Massachusetts, New York, Oregon, Rhode Island, and Washington state in committing to adopt the ACCII rule.
Meanwhile at the federal level, the Biden administration earlier this year proposed a rule aimed at ensuring that as many as two-thirds of all new light- and medium-duty passenger vehicles sold in the U.S. by 2032 are EVs.
A report published last year by the American Lung Association concluded that, in addition to slowing global heating, a nationwide transition to zero-emission vehicles and renewable electricity would bring $1.2 trillion in public health benefits to the United States over the next 30 years.
News