Once In A Century Rip-Off
Economist Michael Hudson: the bailout is a giveaway that will cause hyperinflation and dollar collapse.
WASHINGTON
President George Bush pressed for multi-billion dollar Wall St.
bail out plan in a historic meeting attended by the two men fighting to
succeed him. But at the end of the meeting the top republican on the
senate banking committee, Sen. Richard Shelby said that no agreement on
the deal had been made.
In a joint statement from the McCain and Obama campaigns they both
agreed that the Bush administration proposal is flawed but would work
together to find a solution. Germany's finance minister Peer
Steinbrueck said, " The long range effects of this crisis are not
foreseeable at the moment, but one thing seems to be very likely to me;
the US will lost its status as super power in the world financial
system. Not abrupt, but eroding." French President Sarkozy speaking at
a meeting called for capitalism to be more regulated.
The Real News Network spoke to economist and author Dr.Michael
Hudson. Hudson emphasized that there is no need for this bail out at
all. "Its not a bailout, it's a give away and it's a give away that
will create a new Kleptocracy of billionaires. It lets all of the
billionaire who have leveraged their capital cash out, take their cash
and move it all into Euros, Sterling, move it all abroad and that clash
the dollar, so they should just say don't do it. Wait till the
elections take place. Do it over time. You don't have to protect all
this money at the very top of this pyramid, because all this money that
is being protected are other peoples debt"
Watch the full story on The Real News Network: Once In A Century Rip-Off
The Real News Network is a television news and documentary network focused on providing independent and uncompromising journalism. Our staff, in collaboration with courageous journalists around the globe, will investigate, report and debate stories on the critical issues of our times. We are viewer supported and do not accept advertising, government or corporate funding.
LATEST NEWS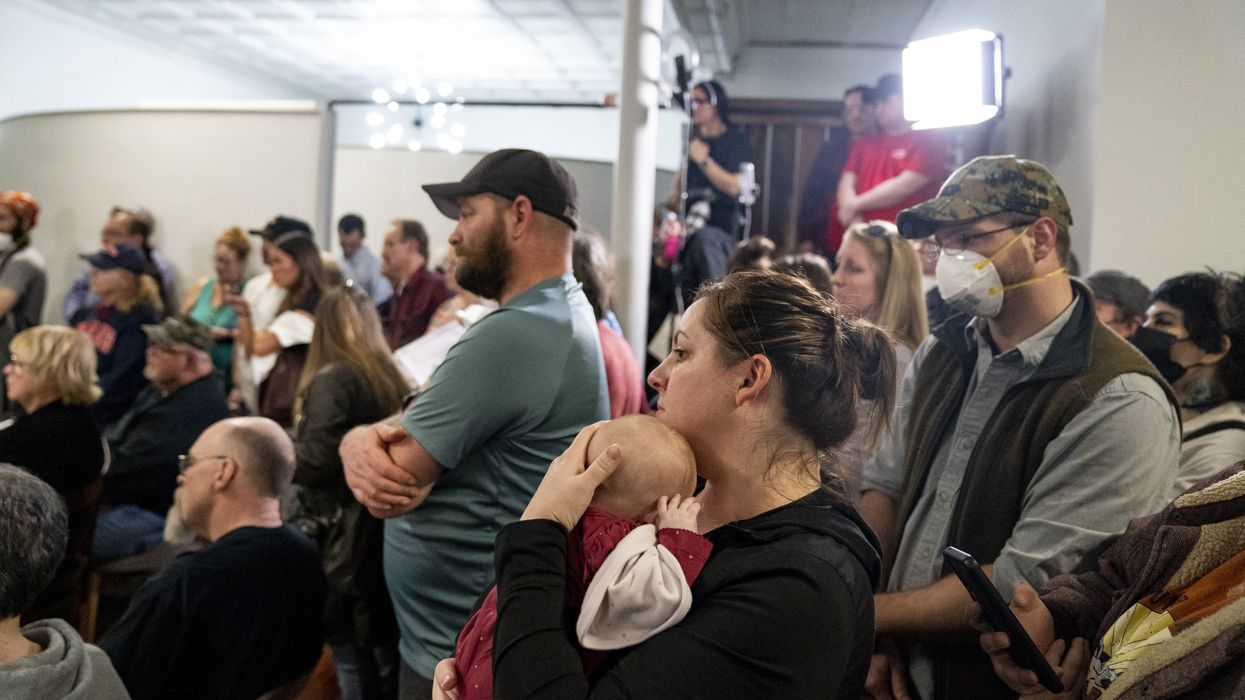 "Every day that this community doesn't have relocation options," said local organizers, "is another day this community is in crisis."
At a town hall meeting in East Palestine, Ohio Thursday night, hundreds of residents had their first chance to directly confront the rail company responsible for the train derailment that took place in the town last month, and used the opportunity to share their outrage over Norfolk Southern's failure to keep residents safe following its release of toxic chemicals from the crash site.
Residents called on the company representative present at the meeting to "do the right thing" and ensure Norfolk Southern pays to evacuate anyone who wants to leave the town following the controlled release of vinyl chloride, a carcinogenic chemical that was carried by several of the cars on the train that derailed.
The burning of vinyl chloride can send hydrogen chloride and phosgene—which was used in chemical warfare during World War II—into the environment. The chemicals are known to cause headaches, vomiting, and rashes, among other symptoms.
"Every day that this community doesn't have relocation options, independent environmental testing, comprehensive health monitoring, and safe disposal of this toxic waste, is another day this community is in crisis."
Those symptoms, as well as lingering chemical smells, have been reported by East Palestine residents since the February 3 derailment, despite officials' claims that the area is safe.
Tests on more than 150 private well systems and municipal water has not shown disconcerting contamination levels thus far, according to officials, but locals reported serious concerns about the long-term safety of their town.
"Get my grandchildren out of here!" one man demanded as the Norfolk Southern representative said the company feels "horrible" about the derailment, which prompted a temporary evacuation of some residents.
"If you care about us, get our grandkids out," he added.
As "CBS Mornings" reported, other East Palestine residents told the representative and state and federal officials who attended the meeting that they feel "stuck" in the town as their symptoms persist.
One woman told the officials she has witnessed "kids vomiting, nosebleeds, numbness in their mouth, numbness in their fingers."

\u201cAround 200 East Palestine, Ohio residents directly confronted a Norfolk Southern representative Thursday, voicing their anger and concern that they will continue to get sicker because of the toxic chemicals released from a train derailment: \u201cNo one\u2019s coming to save us.\u201d\u201d

— CBS Mornings (@CBS Mornings) 1677848861
The meeting was held weeks after Norfolk Southern officials backed out of attending a previous town hall meeting in the days after the crash, citing safety concerns.
Last week, the EPA ordered Norfolk Southern to take full responsibility for cleaning up any contamination, issuing a legally binding order that also required the company to take part in public meetings.
Ahead of the Thursday meeting, the EPA also ordered testing in East Palestine for dioxins, which can also form when vinyl chloride is burned. Dioxins are already present in the environment and are a byproduct of fuel burning, and the agency has held off on testing for them. River Valley Organizing (RVO), a local grassroots organization, said public pressure from locals pushed officials to conduct the testing.
\u201cThis is huge: because of community pressure and demands, the @EPA will now require Norfolk Southern to test for dioxins.\n\nThis is why we organize. Coming together and demanding action is the only way we will create change and get what our community needs. https://t.co/6F4gnPU0Sz\u201d

— River Valley Organizing (@River Valley Organizing) 1677791055
Earlier this week, RVO released a list of five demands from East Palestine residents that were agreed upon at another community meeting, including:
Relocation for anyone who wants it;
Independent environment testing;
Ongoing medical testing and monitoring;
Safe disposal of toxic waste; and
Payment by Norfolk Southern for 100% of the costs of cleanup.
The company has removed 2.1 million gallons of wastewater and 1,400 tons of solid waste so far, but its shipment of the waste to towns in Texas and Michigan have led to outcry from locals and officials, leading the EPA to order a temporary pause on the shipments this week.

"Every day that this community doesn't have relocation options, independent environmental testing, comprehensive health monitoring, and safe disposal of this toxic waste," said RVO on Friday, "is another day this community is in crisis."
News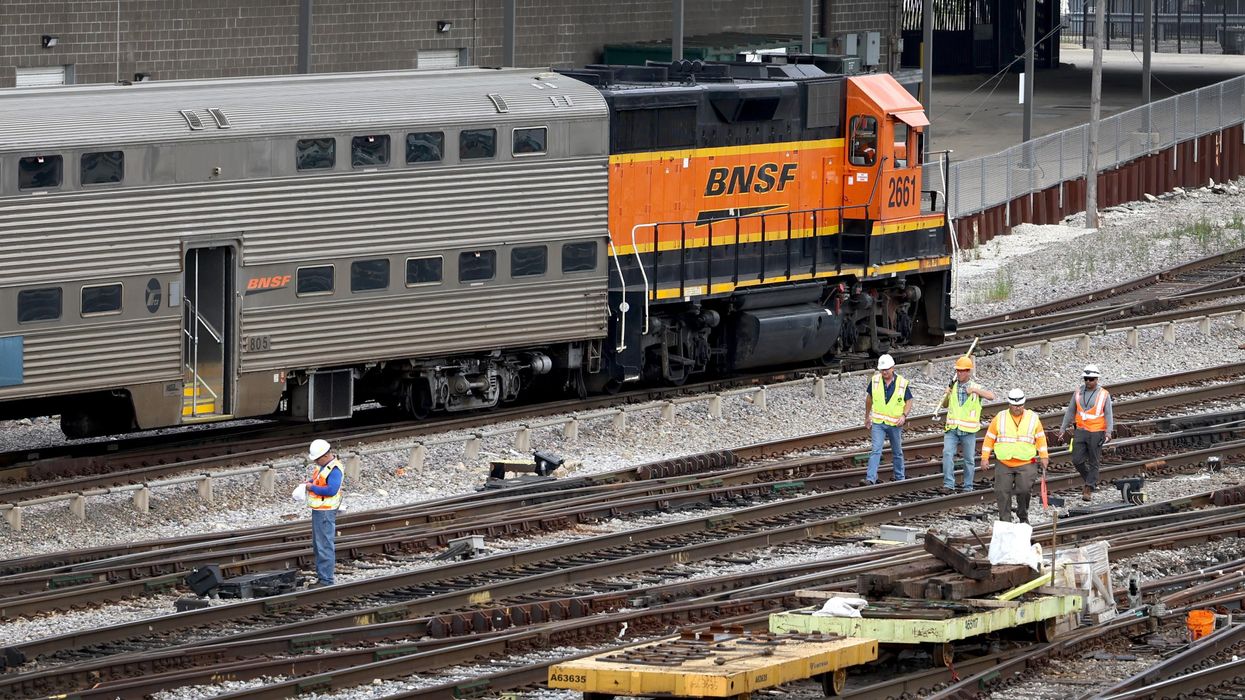 The industry has also spent more than $60 million over the past two decades lobbying officials in 20 states, including California, Texas, and New York.
A new analysis by the campaign finance watchdog OpenSecrets found that the rail industry has spent $653.5 million on federal lobbying over the past two decades as it has worked—often successfully—to fight off stricter safety regulations and antitrust enforcement.
While Norfolk Southern's history of lobbying against safety rules has faced greater scrutiny and backlash in the wake of the toxic derailment in East Palestine, Ohio, the company is hardly an industry outlier.
In its analysis of federal lobbying disclosures, OpenSecrets found that the rail industry's top federal lobbying spenders between 2002 and 2022 were the Association of American Railroads, of which Norfolk Southern is a member; BNSF Railway's parent company Berkshire Hathaway; CSX Corporation; Union Pacific; and Norfolk Southern.
"The industry's hold of the Congress goes beyond Norfolk Southern and its efforts to water down legislation addressing systemic safety issues," the watchdog emphasized, noting that the industry's biggest lobbying "splurges" took place between 2008 and 2012, when "the industry lobbied an act aiming to enforce antitrust laws on the freight railroad industry."
The bill, titled the Railroad Antitrust Enforcement Act of 2009, never received a vote in the House or the Senate.
Rail giants spent $24.6 million lobbying Congress on legislative matters in 2022 alone, according to OpenSecrets. Additionally, the hugely profitable industry has spent heavily on elections in recent years, funneling millions to federal candidates, parties, and political action committees.
"The BNSF Railway PAC gave $1.5 million, the Union Pacific Corp. PAC $1.8 million, and CSX Corp. PAC $913,000 [during the 2022 election]," the watchdog observed. "These federal contributions have historically gone mostly to Republican candidates and groups, though the Norfolk Southern PAC contributed slightly more to Democrats in the last election cycle."
The two top federal recipients of BNSF Railway PAC cash during the 2022 campaign were Rep. Kelly Armstrong (R-N.D.) and House Minority Leader Hakeem Jeffries (D-N.Y.).

OpenSecrets also highlights the rail industry's $60.3 million in lobbying spending in 20 states—including California, Texas, and New York—over the past 20 years, which has had a clear impact on policymaking.
The Leverreported earlier this week that in December 2022, Democratic New York Gov. Kathy Hochul vetoed a "proposed two-person crew bill [that] would have required most freight trains to be operated by at least a conductor and an engineer, a safety measure that both rail unions and bipartisan lawmakers supported."
"Hochul had said in her veto memo that federal laws and pending rulemaking preempt state two-person crew legislation—an argument the railroads and their lobbying groups have used to oppose state staffing bills," the outlet noted. "But two-person crew laws have been enacted in other states without legal challenges, and legal experts disagree with Hochul's assessment of the preemption."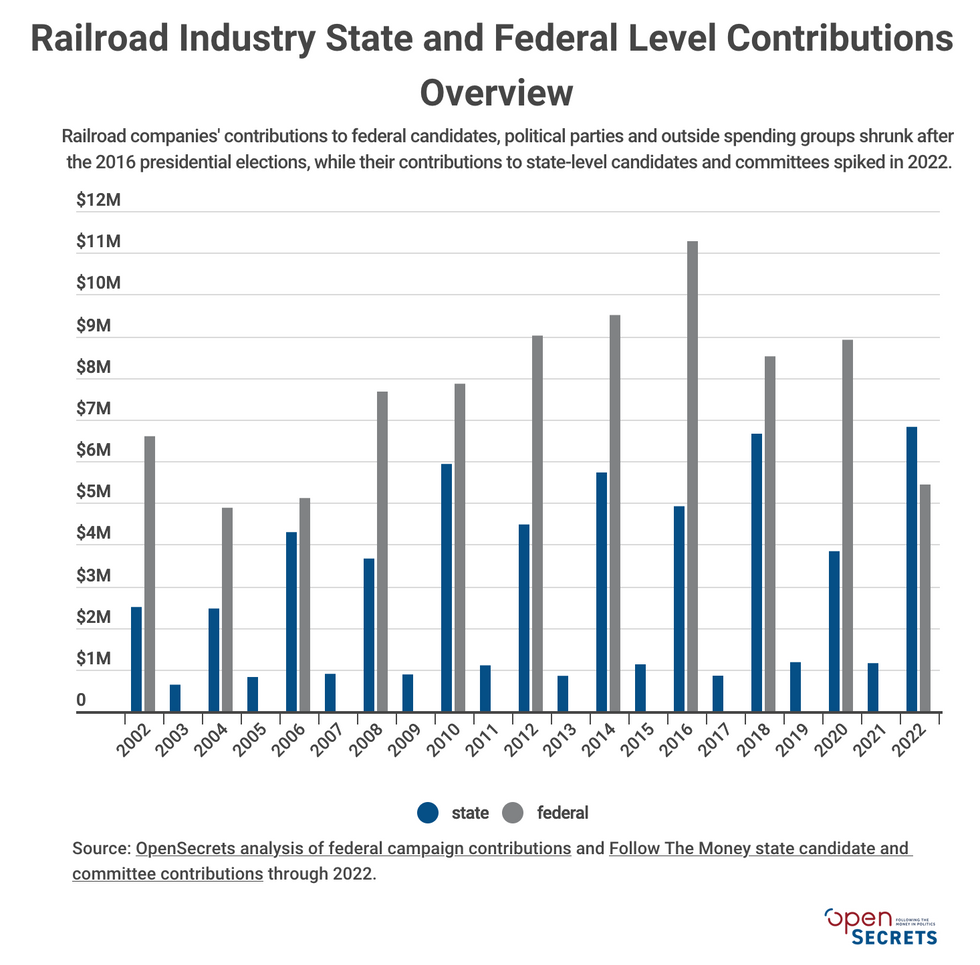 Advocates and reporters have also spotlighted Norfolk Southern's donations to Ohio's Republican Gov. Mike DeWine, who has been accused of mishandling the East Palestine disaster.

"The reasoning behind the inadequate response could be DeWine's close ties to Norfolk Southern's Ohio lobbying firm that led him to reelection, but also paid favor to the rail company through legislative blocks and railroad sales," the Sierra Club argued in a statement last week.
OpenSecrets found that the rail industry's state-level campaign contributions soared to an all-time high of $6.8 million in 2022, with BNSF Railway leading the spending spree.
"The rail industry has given at least $60.8 million in direct contributions to state candidates and committees since 2002, and the biggest contributors echoed those on the federal level," the research group noted.
OpenSecrets' findings came as congressional lawmakers are pushing fresh legislation to strengthen rail safety rules in the wake of the East Palestine derailment, which has called attention to industry-wide safety hazards that workers have been warning about for years.

Rep. Chris Deluzio (D-Pa.), a lead sponsor of a new Housebill aimed at imposing more strict regulations on trains carrying dangerous chemicals, toldThe Lever in an interview earlier this week that "the money that flows through the political system is obscene" and has a "corrupting influence."
"There are real, concrete costs to these anti-safety lobbying efforts that this industry and so many others have undertaken," Deluzio said.
News
"Howard Schultz may be a multibillionaire, but he has got to understand that he and the multibillion-dollar corporation he runs are not above the law."
Sen. Bernie Sanders vowed Thursday to move ahead with a planned vote to force Starbucks CEO Howard Schultz to testify on the company's numerous labor law violations after the coffee chain offered up other executives to appear in the billionaire's place.
In a letter to Sanders (I-Vt.), who chairs the Senate Health, Education, Labor, and Pensions Committee, Starbucks general counsel Zabrina Jenkins wrote that the company is "shocked and deeply concerned" that the senator has rejected proposed stand-ins for Schultz, including executive vice president AJ Jones II.
"Respectfully, Howard Schultz is not the right witness for the hearing," Jenkins wrote, insisting that the Starbucks CEO "delegated decisionmaking regarding actions to be taken on union issues to a small team of executives which includes Mr. Jones."
Jenkins also emphasized that Schultz, who has been directly rebuked by the National Labor Relations Board (NLRB) for threatening pro-union workers, is stepping down as CEO at the end of the month.

Sanders made clear in his response letter that he wasn't persuaded by the company's rationale.
Echoing the language of Starbucks' letter, Sanders wrote that he is "shocked and deeply concerned that Howard Schultz would continue to defy a request made by a majority of members on the U.S. Senate Committee on Health, Education, Labor, and Pensions (HELP) to testify about the 80 complaints issued by the National Labor Relations Board against Starbucks for violating federal labor law, the more than 500 unfair labor practice charges lodged against Starbucks, and the illegal firing of more than a dozen Starbucks workers."
"Let's be clear," Sanders continued. "Howard Schultz is the founder of Starbucks, he is the CEO of Starbucks, he is the spokesperson of Starbucks, and he will continue to be on the Board of Directors at Starbucks well into the future. In numerous media interviews, Mr. Schultz has made it clear that he is the driving force of labor policy at Starbucks. For these reasons, the Senate HELP Committee invited Howard Schultz to testify, not a subordinate, because he is the man who engineered and continues to make labor decisions at Starbucks."
"At some point in the future, we may well want to hear from other executives as to how Starbucks intends to abide by the law and allow workers to form unions," the senator added. "But right now, the immediate issue is to hear from Mr. Schultz."

Sanders announced earlier this week that the Senate HELP Committee will vote this coming Wednesday on whether to subpoena Schultz after the executive refused to voluntarily cooperate with the panel's requests for meetings, documents, and answers to questions about Starbucks' union-busting activities.
Starbucks has denied allegations from workers and the NLRB that it is targeting and firing union organizers, unlawfully threatening pro-union workers with the loss of benefits, cutting workers' hours, and refusing to bargain in good faith with employees who have voted to unionize.
Since the groundbreaking victory in Buffalo, New York in December 2021, more than 280 Starbucks locations across the United States have opted to join Workers United, the union representing Starbucks employees.
Schultz returned for his third stint as Starbucks CEO in early 2022, a move widely seen as part of the company's attempt to crush the nascent union movement. Starbucks Workers United says the company has fired more than 200 workers for engaging in legally protected union activity.
In his letter on Thursday, Sanders pointed to a federal administrative law judge's ruling earlier this week that "detailed a November 2021 meeting—before Mr. Schultz had even returned to the company as CEO—that he had with all Buffalo-area Starbucks workers."
"These workers were forced to attend this meeting while every Buffalo-area store was closed to listen to Mr. Schultz one month prior to union elections that were held in the area," Sanders wrote. "This meeting makes clear the enormous power and influence Mr. Schultz has over labor policy at Starbucks even when he is not the official CEO of the company."
"The American people are sick and tired of multinational corporations violating labor laws with impunity," he continued. "Howard Schultz may be a multibillionaire, but he has got to understand that he and the multibillion-dollar corporation he runs are not above the law."
News
SUPPORT OUR WORK.
We are independent, non-profit, advertising-free and 100%
reader supported.