For Immediate Release
November, 08 2018, 11:00pm EDT
Contact:
Jonathan Hutson,Chief Communications Officer,jhutson [at] phrusa [dot] org,Tel: (617) 301-4210,Cell: (857) 919-5130
WASHINGTON
The following statement is attributable to Physicians for Human Rights (PHR)Asylum Network Program Officer Kathryn Hampton:
"The new measures adopted today by the U.S. Department of Homeland Security and Department of Justice, under the orders of President Trump, barring those entering the United States between ports of entry from applying for asylum, are a direct violation of Article 31(1) of the United Nations Refugee Convention, to which the United States is bound. All asylum seekers crossing an international border are entitled to apply for asylum, regardless of how or where they cross. People who have already suffered so much should not be further penalized by this ruling, which is a breach of the United States' legal obligations.
"The United States must not turn its back on long-standing humanitarian protections for people fleeing persecution and violence. We urge the Trump administration to uphold the right to seek asylum and to ensure the humane and rights-respecting processing of all asylum seekers entering the United States."
PHR was founded in 1986 on the idea that health professionals, with their specialized skills, ethical duties, and credible voices, are uniquely positioned to investigate the health consequences of human rights violations and work to stop them. PHR mobilizes health professionals to advance health, dignity, and justice and promotes the right to health for all.
LATEST NEWS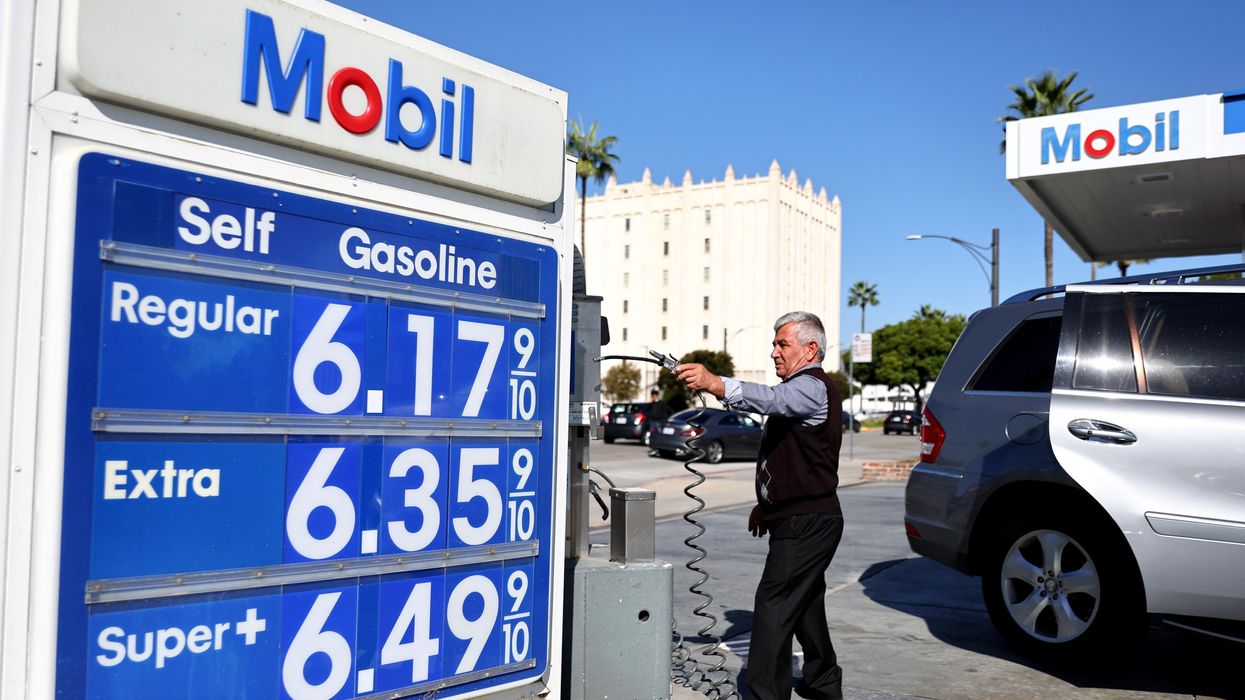 "Enough is enough," said one advocate. "It's time to fight back against the politicians and Big Oil CEOs who put their billions before the health and safety of our families, our communities, and our climate."
As ExxonMobil on Tuesday joined other U.S. oil companies in reporting record 2022 earnings amid rising gas prices, consumer and climate advocates renewed calls for a Big Oil windfall profits tax.
Texas-based ExxonMobil posted a $55.7 billion profit last year, breaking not only its own previous company record—$45 billion in 2008—but setting a historic high for the Western oil industry, according toReuters. The company's profit is a 144% increase from 2021 and, as Fossil Free Media director Jamie Henn noted, "enough money to send every person in the U.S. $178 to help offset the costs of high fossil fuel costs and gas bills."
Marathon Petroleum—the top U.S. refiner—said Tuesday that it raked in $16.4 billion last year while approving a $5 billion stock buyback, and Phillips 66 reported $8.9 billion in adjusted 2022 profit, a 253% increase from 2021.
Tuesday's earnings reports came just days after Chevron announced $35.5 billion 2022 profit, also a company record, and days before Shell, BP, and Total are all expected to follow suit on the strength of profits related to Russia's invasion of Ukraine and the European energy crisis.
Meanwhile, the average U.S. price of a gallon of gasoline crept up to over $3.50 on Tuesday, with average prices by state ranging from $3.40 in Nebraska to $4.93 in Hawaii, according to the American Automobile Association.
Last year, "familiesacross Pennsylvania paid $5 a gallon for gas while Exxon made profits that 'smashed earnings records' and Chevron posted 'record earnings," said U.S. Sen. John Fetterman (D-Pa.), responding to recent Big Oil profit reports. "This price gouging is simply disgusting, and I'm going to get to the bottom of it."
Cassidy DiPaola, spokesperson for Stop the Oil Profiteering, lamented that "while we're getting robbed at the pump, Big Oil's obscene profits are out of control and billionaire fossil fuel CEOs are getting richer and richer."
DiPaola continued:

Big Oil is shattering records precisely because of the pain the public is feeling at the pump. We're paying more for gas and electricity because Big Oil companies are gouging Americans and benefiting from a rigged system that keeps prices high in times of war and crisis. And on top of that, Big Oil CEOs are making massive bonuses and rewarding big Wall Street investors while families are having to decide between filling up their gas tanks or paying for medication and childcare.
"Enough is enough," she added. "It's time to fight back against the politicians and Big Oil CEOs who put their billions before the health and safety of our families, our communities, and our climate. We need to hold them accountable now with solutions like a windfall profits tax, and invest in clean energy solutions that can free us from expensive fossil fuels."
Robert Weissman, president of the consumer advocacy group Public Citizen, said that "Big Oil has imposed a private tax on the American people—to the tune of more than $90 billion from just two companies alone."
"It's past time for the American people to take that money back," he added. "A windfall profits tax would tax Big Oil on its inflated revenues—due only to the rising global price of oil and having nothing to do with Big Oil's costs or investments—and return the money to American consumers."
Last March, Rep. Ro Khanna (D-Calif.) introduced a bill to tax excess oil company profits and use the proceeds to pay American households a quarterly refund. That same month, Sen. Bernie Sanders (I-Vt.) introduced the Ending Corporate Greed Act, which would tax windfall profits of major corporations at a rate of 95%.
While President Joe Biden has threatened to support a windfall profits tax on oil companies if they don't ramp up production, he has not yet done so.
Responding to the increasing calls for taxing excess Big Oil earnings, ExxonMobil chief financial officer Kathryn Mikells toldReuters that windfall profits taxes are "unlawful and bad policy," and would have "the opposite effect of what you are trying to achieve."
In a Reutersopinion piece published Tuesday, Sandrine Dixson-Declève, co-president of the Club of Rome and project lead for Earth4All initiative, wrote that "oil and gas companies are perhaps the most flagrant example of our upside-down world."
"Despite being responsible for the majority of the emissions that cause climate change, they continue to make higher and higher profits," she explained. "At the same time, vulnerable people in the lowest-income countries, who have done the least to cause climate change and are most impacted by the extreme weather events caused by a warming world, are getting poorer."
"There is absolutely no reason not to tax windfall profits in all sectors, in particular when they have been made during periods of scarcity and speculation when the rest of the world is worse off," Dixson-Declève added. "Ending tax incentives and subsidies for fossil fuels is simply a no-brainer in a world where climate change is already costing untold financial and human losses every year."
News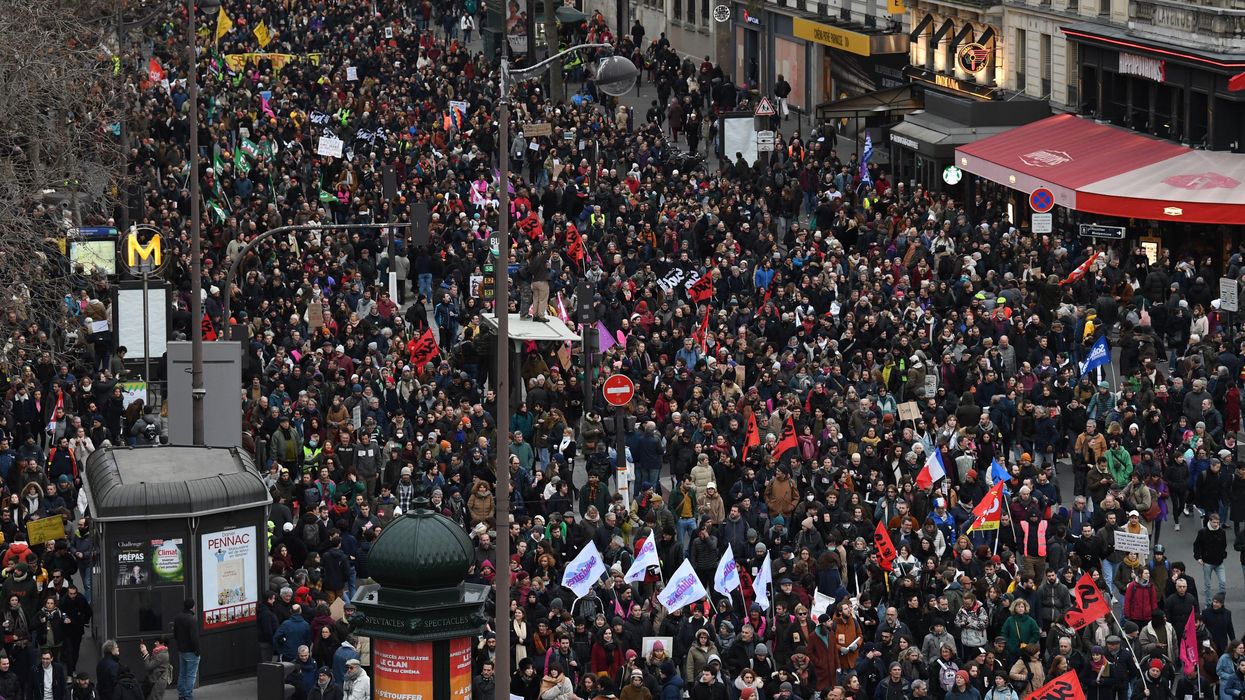 "It's not often that we see such a mass mobilization," said leftist leader Jean-Luc Mélenchon.
Hundreds of thousands of enraged workers across France walked off the job and hit the streets Tuesday to protest President Emmanuel Macron's unpopular plan to raise the nation's official retirement age from 62 to 64.
It marks the second time this month that French workers have mobilized against Macron's attack on the country's pension system. Nationwide strikes and marches on January 19 brought out between one million and two million people, and labor unions aimed to match or exceed those numbers on Tuesday, with roughly 250 demonstrations planned around the country.
Longtime leftist leader Jean-Luc Mélenchon predicted Tuesday morning that "a historic day" of protests would help defeat Macron's proposal once and for all, as massive crowds rallied in cities and towns outside Paris—prior to a major march that shut down the French capital on Tuesday afternoon.
"It's not often that we see such a mass mobilization," Mélenchon said from the southern city of Marseille. "It's a form of citizens' insurrection."
On the small western island of Ouessant, about 100 people gathered early in the day for a protest outside the office of Mayor Denis Palluel.
In a phone interview with The Associated Press, Palluel noted that the threat of having to work longer to qualify for a full pension dismayed mariners on the island who have grueling ocean-based jobs.
"Retiring at a reasonable age is important," he said, "because life expectancy isn't very long."
"Retiring at a reasonable age is important because life expectancy isn't very long."
Despite widespread opposition to pushing back France's retirement age—approximately three-fourths of the population is against such a move, according to recent polling—many lawmakers remain determined to fulfill Macron's election pledge to overhaul the nation's pension system.
On Monday, Macron described his effort to hike the retirement age as "essential." Prime Minister Élisabeth Borne, for her part, asserted this past weekend that raising the retirement age to 64 by 2030 is "no longer negotiable."
"Strikers and protesters intend to prove otherwise," Agence France-Pressereported Tuesday. "Labor unions and left-wing legislators fighting in parliament against Macron's plans are counting on protesters to turn out massively to strengthen their efforts to kill the bill."
As they did earlier this month, strikes on Tuesday upended multiple aspects of daily life, including electricity production, transportation, and education.
"TotalEnegies says between 75% and 100% of workers at its refineries and fuel depots are on strike, while electricity supplier EDF said they're monitoring a drop in power to the national grid equivalent to three nuclear power plants," Euronews reported.
According to AP: "Rail operator SNCF reported major disruptions, with strikes knocking out most trains in the Paris region, in all other regions, and on France's flagship high-speed network linking cities and major towns. The Paris Metro was also hard hit by station closures and cancellations."
France's Education Ministry, meanwhile, reported that around a quarter of the nation's teachers were on strike Tuesday, down from 70% during the first round of protests.
Macron's proposed pension reform, the text of which Borne presented to the National Assembly earlier this month, faces an uphill battle.
For one thing, the New Ecological and Social People's Union (NUPES)—a coalition of four left-wing parties recently formed by Mélenchon—won 131 seats in last June's parliamentary elections, helping to prevent the neoliberal alliance Ensemble from securing the absolute majority it needed to ram through Macron's unwanted austerity agenda.
According to AFP, even the president's own allies from his ruling alliance have expressed concerns about some aspects of the legislation.
"We can feel a certain nervousness from the majority as we begin our work," Mathilde Panot, head of the left-wing France Unbowed party in the National Assembly, told the news outleton Tuesday. "When we see this opposition growing, I understand why they are wavering."
However, journalist Marlon Ettinger, citing French Communist Party MP André Chassaigne, warned recently that "the government might try to pass the reform through a social security financing bill (known as PLFRSS), which would allow for a series of constitutional delays that would significantly limit the amount of time deputies can discuss the bill. It would also block the possibility for the opposition to present their own counterproposals."
In addition, "although Macron has no popular assent, nor a parliamentary majority for his reform, he does have constitutional tools he can use to push the package through," Ettinger explained in Jacobin. "One, known as 49.3 (after the article of the Constitution which grants the president this power), essentially lets him bypass the National Assembly. The constitution of the current Fifth Republic grants the president these authoritarian powers to hedge against any popular sentiment that might make its way into the lower house. The use of 49.3 would suspend the debate in the National Assembly, then send the bill directly to the Senate, which is controlled by Les Républicains."
Aware that such anti-democratic maneuvers are on the table, Mélenchon and other opponents of the assault on France's pension system have called on Macron to withdraw his proposal for good.
News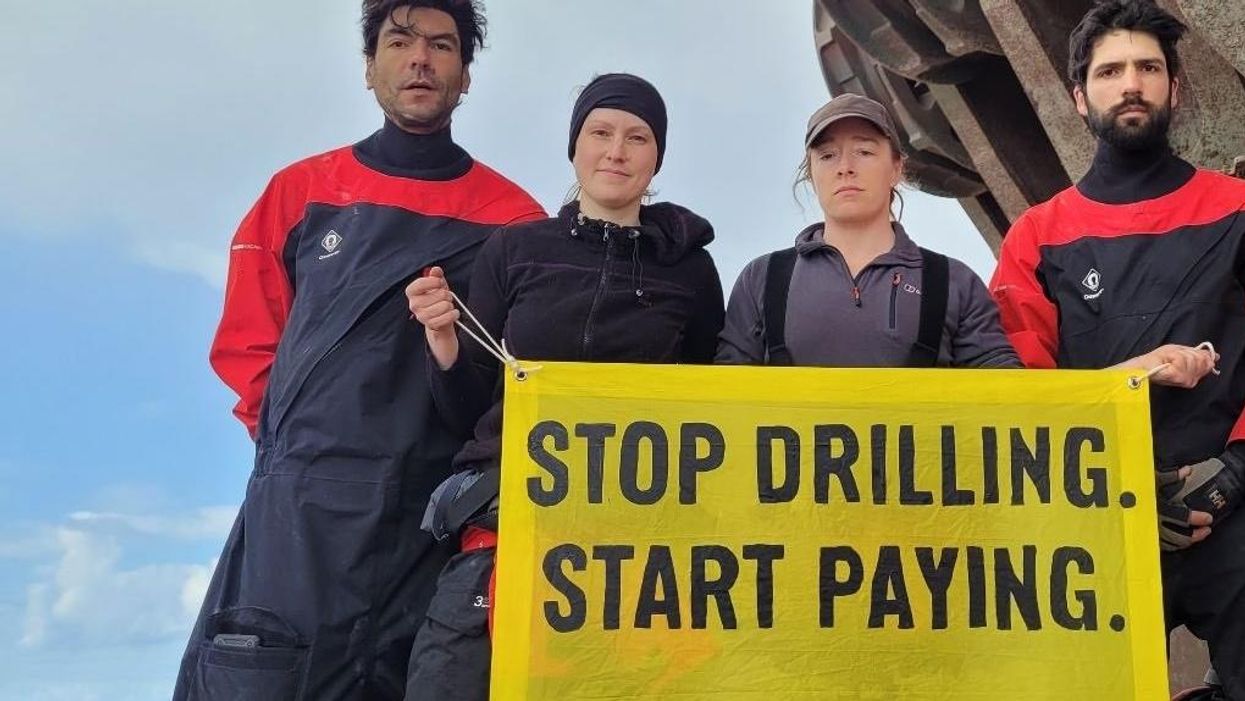 "We're taking action today because when Shell extracts fossil fuels, it causes a ripple of death, destruction, and displacement around the world."
In an effort to call attention to the company's planet-wrecking drilling projects, several Greenpeace International campaigners on Tuesday boarded and occupied a Shell-contracted platform in the Atlantic Ocean as it headed toward a major oil and gas field in the U.K. North Sea.
Greenpeace said in a press release that the platform is "a key piece of production equipment that will enable Shell to unlock eight new wells in the Penguins North Sea oil and gas field," an extraction effort that the climate group has attempted to block in court.
Four Greenpeace activists—Carlos Marcelo Bariggi Amara from Argentina, Yakup Çetinkaya from Turkey Imogen Michel from the U.K., and Usnea Granger from the U.S.—managed to board the Shell vessel using ropes after reaching the platform in three boats deployed from Greenpeace's Arctic Sunrise ship.
Greenpeace Southeast Asia executive director Yeb Saño, who tried and failed to board the platform, said in a statement that Shell "must stop drilling and start paying."
"We're taking action today because when Shell extracts fossil fuels, it causes a ripple of death, destruction, and displacement around the world, having the worst impact on people who are least to blame for the climate crisis," said Saño, the former lead climate negotiator for the Philippines.
"We won't stop until we get climate justice. We will make polluters pay."
A Shell spokesperson claimed in a statement that the Greenpeace campaigners' demonstration is "causing real safety concerns, with a number of people boarding a moving vessel in rough conditions."
But the spokesperson signaled that the company has no intention of altering its development plans in the North Sea, despite warnings from the scientific community that continued drilling will usher in catastrophic climate outcomes.
"Shell and the wider fossil fuel industry are bringing the climate crisis into our homes, our families, our landscapes, and oceans," Saño said Tuesday. "So we will take them on at sea, at shareholder meetings, in the courtroom, online, and at their headquarters. We won't stop until we get climate justice. We will make polluters pay."
Greenpeace's latest direct action came days before Shell's earnings report, which will follow the banner profit announcements of competing oil and gas giants such as Chevon and ExxonMobil.
On Tuesday, Exxon said it raked in a record $56 billion in profits in 2022.

News
SUPPORT OUR WORK.
We are independent, non-profit, advertising-free and 100%
reader supported.