For Immediate Release
Contact:
(202) 466-3234,Joe Conn,Rob Boston,Sandhya Bathija
IRS Should Investigate South Dakota Church That Endorsed Gubernatorial Candidate, Says Americans United
Watchdog Group Says Baptist Pastor's Pulpit Endorsement Violates Federal Tax Law
WASHINGTON
Americans United for Separation of Church and State today filed a
complaint with the Internal Revenue Service about a Rapid City, S.D.,
church whose pastor endorsed a gubernatorial candidate during a church
service.
The Rev. H. Wayne Williams, pastor of Liberty Baptist Tabernacle,
endorsed state Sen. Gordon Howie, who was seeking the Republican
nomination for governor. Williams' May 16 endorsement from the pulpit
was reported in a press release by the Howie campaign and in the Rapid
City Journal.
"This church is tax exempt and may not intervene in elections," said
the Rev. Barry W. Lynn, executive director of Americans United. "
In a letter
to the IRS today, Lynn outlined the case against Liberty Baptist.
He noted that Howie's campaign issued a press release on May 18
trumpeting the endorsement. In that press release, Williams stated, "I
have no fear of the I.R.S."
The Williams endorsement was also reported by the Journal on
May 23.
In addition, an Americans United staff
member called Williams to discuss the matter on June 8. During that
conversation, Williams confirmed his in-church endorsement and asserted
that his church is not accountable to the IRS.
Lynn said such flagrant disobedience of the law should not be
ignored.
"Pastor Williams is thumbing his nose at the Internal Revenue
Service," said Lynn. "The facts are not in dispute, and the IRS should
take action."
Americans United runs a special program called Project Fair Play. The project
aims to educate clergy and citizens about the requirements of federal
law and the ban on politicking by tax-exempt entities.
As part of the project, Americans United files complaints to the IRS
about houses of worship and religious non-profits that flout the law.
Americans United is a religious liberty watchdog group based in Washington, D.C. Founded in 1947, the organization educates Americans about the importance of church-state separation in safeguarding religious freedom.
LATEST NEWS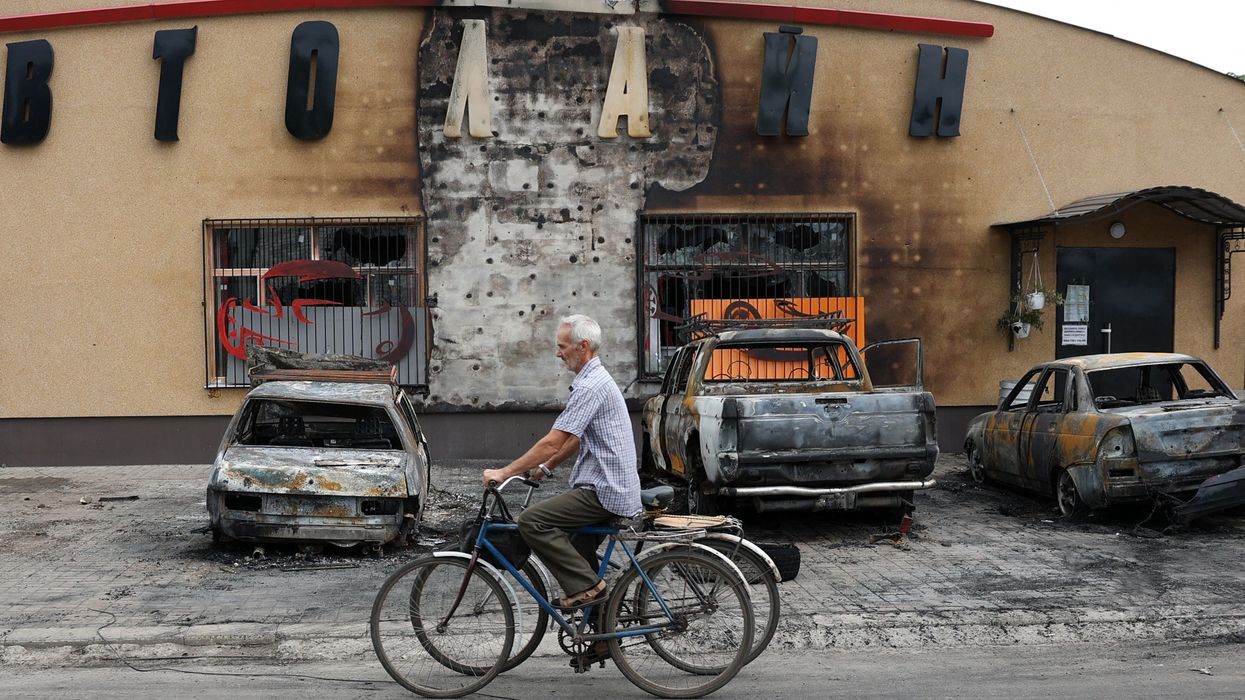 Nobel laureate Mary Wareham admonished nonsignatories to the Convention on Cluster Munitions to join "without delay" as Bulgaria, Slovakia, and South Africa said they have dismantled their arsenals.
As the U.S. gives cluster bombs to Ukraine—and as the Biden administration reportedly moves to send longer-range missiles armed with them to Kyiv—three nations this week said they've finished destroying their stockpiles of the internationally banned weapons amid renewed calls for more countries to join the Convention on Cluster Munitions.
The 11th meeting of parties to the 2008 Convention on Cluster Munitions (CCM), to which 112 nations are party, wrapped up Thursday in Geneva on a high note as Bulgaria, Slovakia, and South Africa announced that they have completed the destruction of a combined 9,582 bombs and 585,422 bomblets. South Africa is the only country that once possessed but gave up both nuclear weapons and cluster bombs.
"Countries that have joined the Convention on Cluster Munitions have repeatedly demonstrated their commitment to destroy their stockpiles, clear remnants, and oppose the weapon's use," said Human Rights Watch acting arms director Mary Wareham, who played a key role in the CCM's success.
"The main concern remains with countries unwilling to ban the weapon that may continue to use them now or start using them in the future," added Wareham, who was also jointly awarded the 1997 Nobel Peace Prize for her work with the International Campaign to Ban Landmines.
As Common Dreamsreported earlier this month, the refusal of countries including Russia, Ukraine, and the United States to end the use and transfer of cluster munitions caused nearly 1,000 civilian casualties last year.
"Countries that have not banned cluster munitions should heed the call of the United Nations secretary-general and join the convention without delay," Wareham asserted.
A youth contingent of the advocacy group Mine Action Fellows, members of which attended the Geneva meeting, said in a statement that "while we have much to celebrate, we cannot ignore the harm done by states not party and the escalation in deaths from cluster munitions."
"Producing, using, and transferring cluster munitions by any actor, under any circumstance is unacceptable," the group added. "We call for an immediate stop to the transfer and use of this indiscriminate weapon."
The remarks from Wareham and Mine Action Fellows came as the Biden administration is reportedly close to approving the shipment of longer-range ballistic missiles armed with cluster munitions to Ukrainian forces defending their country from a 19-month Russian invasion. This, after the U.S. began sending 155mm artillery shells to Kyiv earlier this summer. Russian and Ukrainian forces have both killed and wounded soldiers and civilians with cluster bombs during the war.

Earlier this month, the U.S. also started sending Ukraine depleted uranium munitions, which have been linked to birth defects, miscarriages, and cancers after their use by U.S. forces in Iraq and Yugoslavia.
Multiple congressional efforts to prohibit the export of U.S. cluster munitions to any country have failed to advance. Earlier this summer, the Republican-controlled House Rules Committee voted down a resolution proposed by Reps. Ilhan Omar (D-Minn.) and Sara Jacobs (D-Calif.), while backing a new one led by Rep. Marjorie Taylor Greene (R-Ga.)—whose controversial sponsorship doomed the measure.
The latest effort to thwart the transfer of cluster bombs is an amendment spearheaded by Jacobs and Rep. Matt Gaetz (R-Fla.), with Reps. Jesús "Chuy" García (D-Ill.), Barbara Lee (D-Calif.), Thomas Massie (R-Ky.), Jim McGovern (D-Mass.), Andrea Salinas (D-Ore.), Rashida Tlaib (D-Mich.), and Jill Tokuda (D-Hawaii) as co-sponsors.
"Sending cluster munitions anywhere in the world makes the United States complicit in the unavoidable and inevitable civilian harm that follows," Jacobs toldThe Intercept on Thursday. "No amount of guardrails or promised precautions are enough because these weapons are unpredictable and maim and kill indiscriminately—potentially years after their intended use."
Claiming that the U.S. "has a strong reputation for upholding human rights around the world," Jacobs added that "that message is muddied when we're willing to send these weapons that are infamous for the carnage they cause."
Since the end of the Vietnam War, unexploded cluster munitions—which can look like inviting toys to children who find them—have killed approximately 20,000 civilians in Laos, where the U.S. dropped more bombs than all sides in World War II combined. The U.S. dropped as many as 270 million cluster bombs on Laos, and less than 1% of the unexploded bomblets have been cleared since. They are still killing civilians to this day.
News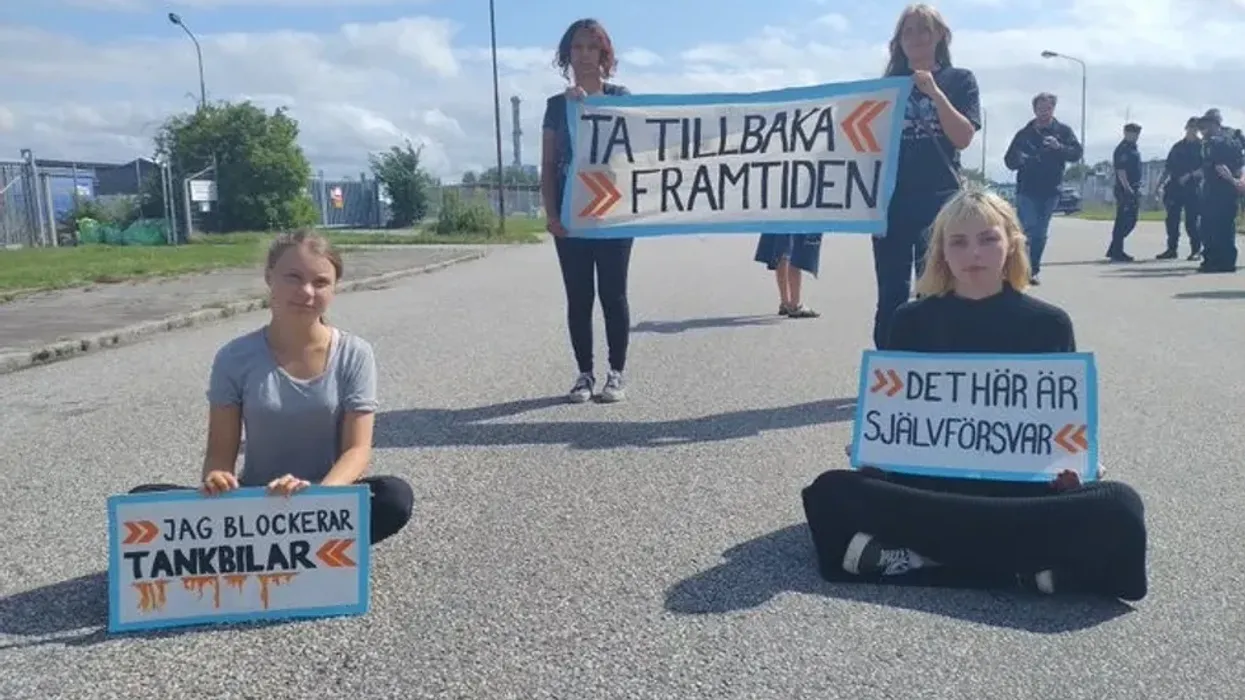 The Swedish climate activist has been charged for a second time for failing to obey police orders.
Swedish climate activist Greta Thunberg was charged for a second time on Friday for not leaving a protest near an oil terminal after police ordered her to do so.

The new charge comes less than two months after Thunberg, who launched the School Strike for Climate movement five years ago in August, was convicted for the same offense. If convicted again, Reuters reported, she could face up to six months in prison.
"It is absurd that those who act in line with science should pay the price for it," Thunderg told journalists the day of her first conviction on July 24, as Reuters reported at the time.
"We know we can't save the world by following the rules, because the rules have to change."
Thunberg was first arrested on June 19 for blocking the road that oil trucks take into Sweden's Malmö harbor to reach the oil terminal there. She acted with the Swedish group Ta Tillbaka Framtiden, or Reclaim the Future.
Thunberg pleaded not guilty to the charges from the June protest, arguing that she disobeyed the police out of necessity to stop the climate crisis, as Reuters reported.
"I believe that we are in an emergency that threatens life, health, and property. Countless people and communities are at risk both in the short term and in the long term," she told the court.
At the time of the trial, the media was also reporting on people fleeing extensive wildfires in Greece, Reclaim the Future pointed out on social media.
However, the court convicted her and fined her a total of $244, BBC News reported.
Hours later, Thunberg and 15 other Reclaim the Future activists returned to Malmö to block traffic, the group said. Police removed them once again.
"We know we can't save the world by following the rules, because the rules have to change," Thunberg said at the time, in a quote shared by Reclaim the Future on social media.
It is for this second protest that Thunberg is being charged now.
"The protest was unauthorized and led to traffic being blocked. The young woman refused to obey police order to leave the site," prosecutor Isabel Ekberg said, as The Local.Se reported. "This is therefore a case of refusal to comply."
Disobeying police orders caries a maximum sentence of six months in prison. While prosecutor Charlotte Ottesen thought such a sentence unlikely after Thunberg's first charge, Reuters said the sentence could be steeper after her second.
Thuberg's second trial is scheduled for September 27.
News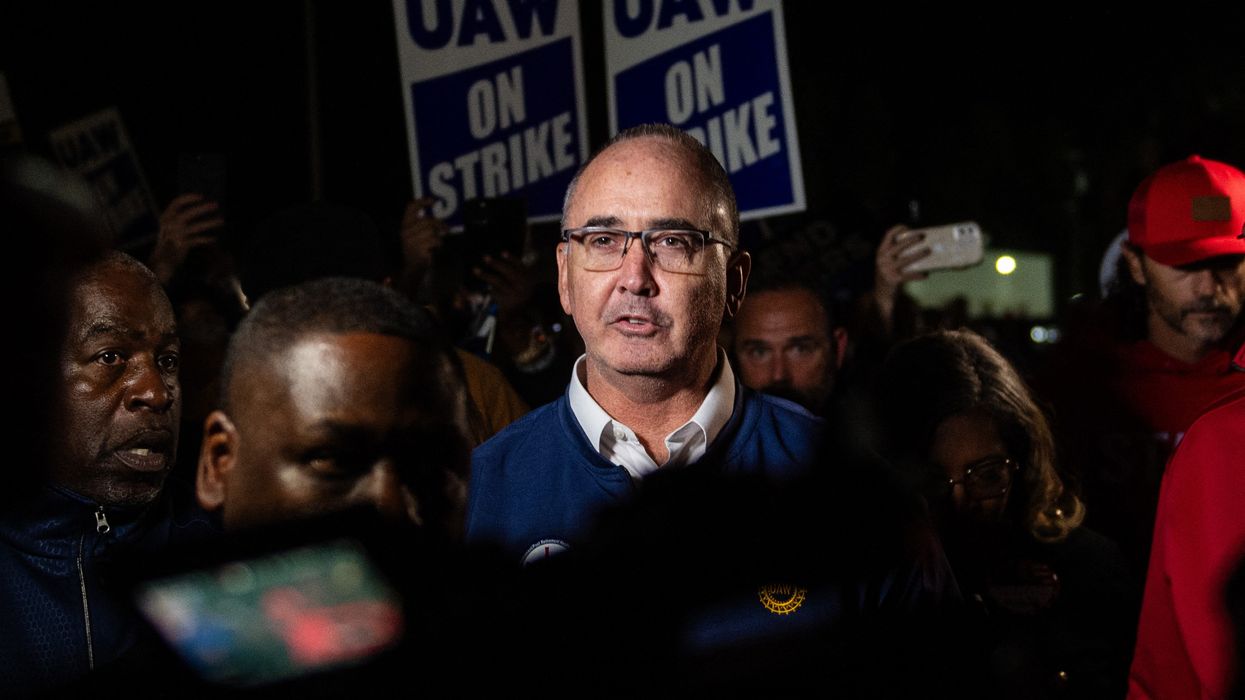 "The CEOs gave themselves 40% pay increases in the last four years alone," United Auto Workers president Shawn Fain said from the picket line. "And they want to call us greedy."
Forty percent.
It's a figure that United Auto Workers president Shawn Fain cited repeatedly in the run-up to the union's historic strike against the Big Three U.S. car manufacturers as he called attention to the exorbitant compensation of the companies' top executives.
Over the past four years, the CEOs of General Motors, Ford, and Stellantis have seen their total pay jump by 40% while the wages of the companies' ordinary employees have risen by just 6%. The Economic Policy Institute observed earlier this week that autoworker wages across the U.S. have fallen by 19.3% since 2008.
Last year, the CEOs of the Big Three automakers received staggering pay packages, fueling workers' ongoing push for better wages and benefits. Ford's Jim Farley took home around $21 million, Stellantis' Carlos Tavares pocketed nearly $25 million, and General Motors' Mary Barra—the highest-paid of the group—brought in roughly $29 million.
Barra has received more than $200 million in compensation since becoming GM's CEO in 2014.

"We've went backwards in the last 16 years—backwards—while the CEOs gave themselves 40% pay increases in the last four years alone," Fain said from a picket line in Michigan early Friday. "And they want to call us greedy."
"UAW members see the CEO pay disparity as a measurement of how they are undervalued."
The contrast between CEO and worker pay at the large, profitable automakers is striking.
The shareholder advocacy nonprofit As You Sow, which tracks CEO-to-worker pay gaps at U.S. companies, noted Friday that Ford's chief executive made 281 times as much as the company's median worker last year.
The gap was even larger at General Motors, where Barra was paid 362 times more than the automaker's median employee in 2022.
In a CNN interview on Friday, Barra insisted it is fair that General Motors is only offering its workers a 20% pay increase over the course of a four-year contract after she got a 34% compensation boost over the past four years.
Rosanna Landis Weaver, director of wage justice and executive compensation at As You Sow, said in a statement Friday that "as a consequence of out-of-control executive compensation, shareholders are now faced with striking workers at a critical juncture as these companies transition to EV production."
"UAW members see the CEO pay disparity as a measurement of how they are undervalued," said Weaver. "Skyrocketing CEO pay is linked to worker dissatisfaction and lower profits, making excessive pay a distinct material risk that shareholders must take seriously."
Progressive lawmakers who have expressed solidarity with the UAW's fight for a fair contract have also condemned runaway executive compensation and declining worker wages.
"The Big Three auto companies have already raked in $20 billion in profits this year. Their CEOs make millions. They can afford to pay their employees a living wage," Rep. Jamaal Bowman (D-N.Y.) wrote on social media Friday. "I'm standing with UAW as they start their strike. We got you!"
In an appearance on MSNBC Thursday night, Sen. Bernie Sanders (I-Vt.) noted that "over the last 20 years, real wages for automobile workers have gone down by 30% when you account for inflation" as CEO pay has risen.
"I really applaud the courage of Shawn Fain and the workers at the UAW for standing up and saying: 'You know what? Enough is enough,'" Sanders added. "No one thinks that three people on top should own more wealth than the bottom half of American society. That CEOs are making 400 times more than their workers—that's not what this country is supposed to be about. That's what the UAW is telling the American people, and I think there's massive support for what they're trying to do."

According to the Economic Policy Institute, CEO compensation at the top publicly traded companies in the U.S. grew by 1,460% between 1978 and 2021 while typical worker pay grew by just 18.1%.
Robert Reich, the former U.S. labor secretary, argued in a blog post Thursday that the combination of "humongous executive pay packages," massive automaker profits, low wages for hourly employees, and tiered pay systems that harm newer workers have increased "the likelihood of a long strike."
"CEO pay at the Big Three is out of sight," Reich noted. "Overall, CEO pay rose 40% over the last four years. And that's not counting all the other executive salaries under the CEOs that have been ratcheted upward as CEO pay has gone through the roof."
News
Independent, nonprofit journalism needs your help.
Please Pitch In
Today!