Our work is licensed under Creative Commons (CC BY-NC-ND 3.0). Feel free to republish and share widely.
Abby Zimet
Abby Zimet has written CD's Further column since 2008. A longtime, award-winning journalist, she moved to the Maine woods in the early 70s, where she spent a dozen years building a house, hauling water and writing before moving to Portland. Having come of political age during the Vietnam War, she has long been involved in women's, labor, anti-war, social justice and refugee rights issues. Email: azimet18@gmail.com
Drumming and chanting, hundreds of activists and Indigenous leaders rallied in D.C. Tuesday to mark the 79th birthday of Native American activist Leonard Peltier, and to demand Biden free America's longest incarcerated political prisoner. Convicted 48 years ago of a killing many say he didn't commit, Peltier's conviction is turning into what supporters call "a de-facto death sentence" that "stands as a grim symbol of this country's long history of stealing life and legacy from Indigenous communities."
Peltier is serving out two life sentences in a federal prison in Florida for the killing of two FBI agents during a 1975 standoff on South Dakota's Pine Ridge Indian Reservation between law enforcement and the American Indian Movement. Founded in Minneapolis in the 1960s to combat police brutality and discrimination against Native communities, AIM became a national organization working for housing, education, job training, legal assistance and the environment. In 1973, they occupied Wounded Knee in a 71-day standoff that ultimately led to the confrontation in which FBI agents Jack Coler and Ronald Williams were shot and killed. Then a 32-year-old AIM leader, Peltier was convicted of their murders; his co-defendants were ruled not guilty on grounds of self-defense. Since then, a U.N. working group has found Peltier's trial and subsequent parole hearings "rife" with both anti-indigenous bias and due process violations.
It turned out the FBI, which called the group "extremist," had long infiltrated AIM with the goal of bringing them down; during the trial, it was revealed they coerced witnesses, withheld evidence and falsified a ballistics report. Since then, key figures in the case, including the judge for Peltier's 1986 appeal and the former federal prosecutor who handled his case, have argued his detention amounts to "an arbitrary deprivation of his liberty," and he should be released. In a letter to President Biden, former prosecutor James Reynolds, who oversaw Peltier's post-trial sentencing, cited "overwhelming...procedural deficiencies" to argue "the prosecution and continued incarceration of Mr. Peltier was and is unjust." Though Deb Haaland, his Native Interior Secretary, has urged Peltier be freed, Biden has remained silent. Despite enduring support from widespread sources, Peltier has been denied all his parole requests, and he has exhausted his appeals.
A member of the Turtle Mountain Chippewa tribe, Peltier turned 79 Tuesday. He has survived COVID and years of solitary confinement, has spent much of his time painting and writing, and suffers from myriad medical issues including diabetes, kidney disease, heart condition, and near blindness in one eye from a stroke. Earlier this year, he told The Guardian being kept from his family for so long has been "more than hard." "Being free to me means being able to breathe freely away from the many dangers I live under," he said. "Being free would mean I could walk over a mile straight. It would mean being able to hug my grandchildren and great-grandchildren." In a statement, Arizona's Dem Rep. Raúl Grijalva agreed. "Nearly 50 years after he was wrongfully imprisoned," he wrote, "Mr. Peltier's next birthday should be spent at home with friends and family, not in a prison cell."
Tuesday's rally in front of the White House was organized by Amnesty International and Indigenous advocacy group NDN Collective; many supporters had ridden a three-day bus caravan from Pine Ridge through stops in Minnesota, Illinois and Pennsylvania. Amidst the chants and drums and "Free Peltier!" signs, there was a sense of anger and urgency in speeches that reiterated, in the words of NDN president Nick Tilsen, "48 years is long enough." "Time is running out," said Peltier attorney Kevin Sharpe. "The opportunities to do something important are becoming fewer and farther between...We're letting (Biden) know that no one has forgotten about Leonard Peltier." "It's time to let our Elder out because he's done his time," said Jean Roach, Lakota head of Peltier's Defense Committee, of "this racist atrocity." "They made Leonard an example of what happens when people stand up against the corporate state of America."
This February, Peltier issued a statement from his prison cell to mark the 48th year of his unjust incarceration. Again, he thanked his supporters "from the bottom of my soul" while conceding, "Every day, I have to say a prayer in the morning about keeping my spirit up and the spirits of our people." "The struggles of the American Indian Movement, which are the struggles of all of us, have never ended for me. They go on, week after week, month after month, year after year," he wrote. "My imprisonment is just another example of the treatment (our) people have faced since the arrival of the first Europeans...We have had to live in a state of survival ever since Columbus landed." Citing the U.N.'s call for his release as a political prisoner, he notes there need not be a prisoner exchange, just "the exchange (from) their policy of injustice to a policy of justice." Urging supporters to "educate your children," he ends, "From my heart to yours, plant a tree for me."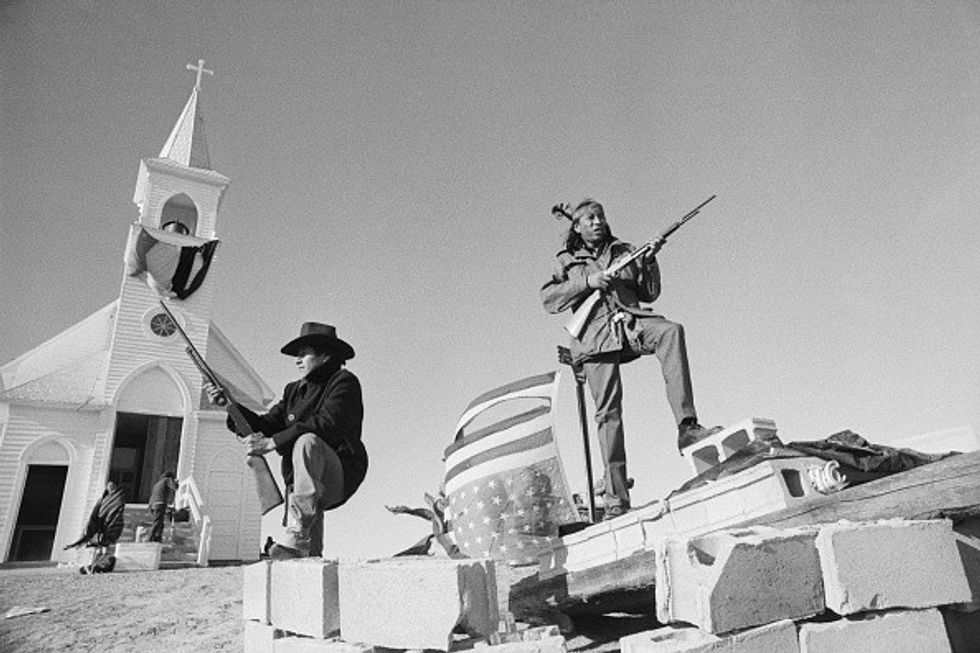 Members of AIM and local Oglala Sioux stand guard outside Sacred Heart Church during Standing Rock occupationGetty Image
We've had enough. The 1% own and operate the corporate media. They are doing everything they can to defend the status quo, squash dissent and protect the wealthy and the powerful. The Common Dreams media model is different. We cover the news that matters to the 99%. Our mission? To inform. To inspire. To ignite change for the common good. How? Nonprofit. Independent. Reader-supported. Free to read. Free to republish. Free to share. With no advertising. No paywalls. No selling of your data. Thousands of small donations fund our newsroom and allow us to continue publishing. Can you chip in? We can't do it without you. Thank you.