Our work is licensed under Creative Commons (CC BY-NC-ND 3.0). Feel free to republish and share widely.
Ocean temperatures -- from the ocean bottom to the sea surface -- off the northeast coast of the U.S. have soared to their warmest ever, the National Oceanic and Atmospheric Administration (NOAA) said Tuesday.
The soaring temperatures follow other warming trends recently noted by the NOAA: we just experienced the fourth warmest August ever, the third warmest summer, and the warmest first 8 months of the year ever.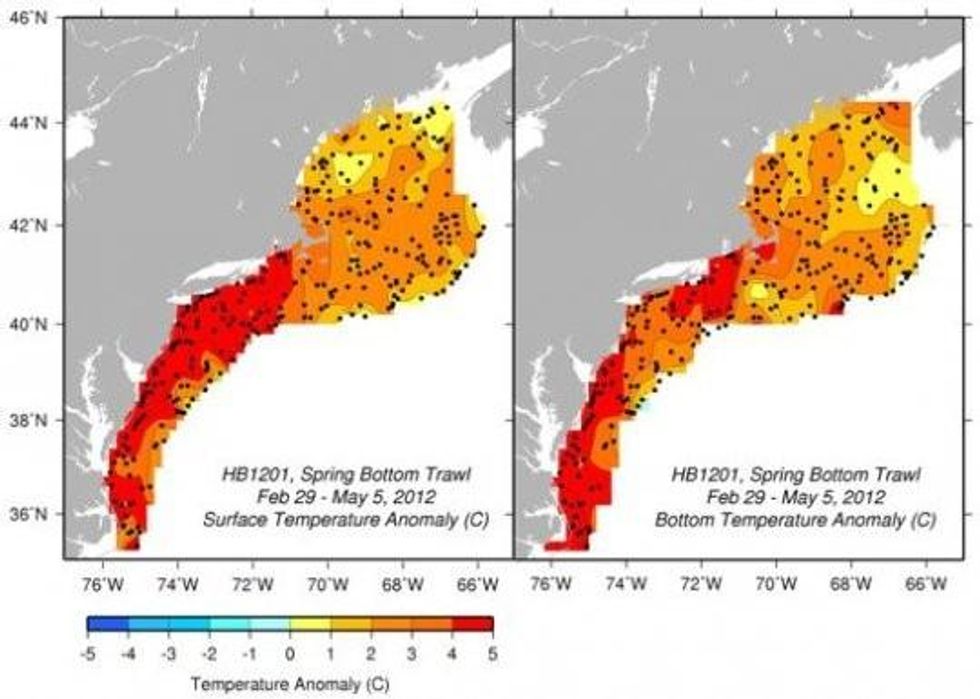 The northeast area documented by NOAA's Northeast Fisheries Science Center (NEFSC) is known as the Northeast Continental Shelf ecosystem, which comprises four major subareas: Gulf of Maine (GOM), Georges Bank (GB), Southern New England (SNE) and the Middle Atlantic Bight (MAB).
"A pronounced warming event occurred on the Northeast Shelf this spring, and this will have a profound impact throughout the ecosystem," said Kevin Friedland, a scientist in the NEFSC's Ecosystem Assessment Program, who said the warmer waters will have impacts on marine life, from plankton to whales. "Changes in ocean temperatures and the timing of the spring plankton bloom could affect the biological clocks of many marine species, which spawn at specific times of the year based on environmental cues like water temperature."
Atlantic cod has already been impacted, as it moves northeasterly in response to the warming waters.
The NEFSC recorded temperatures 11degF above historical average at the surface and more than 9degF above average at the bottom in the Delaware and Chesapeake Bays, while further north 3.6degF warmer than average temperatures were recorded for the bottom waters in the western Gulf of Maine.
"What is known is that things are changing, and we need to continue monitoring and adapting to these changes," stated Mike Fogarty, who heads the Ecosystem Assessment Program.
We've had enough. The 1% own and operate the corporate media. They are doing everything they can to defend the status quo, squash dissent and protect the wealthy and the powerful. The Common Dreams media model is different. We cover the news that matters to the 99%. Our mission? To inform. To inspire. To ignite change for the common good. How? Nonprofit. Independent. Reader-supported. Free to read. Free to republish. Free to share. With no advertising. No paywalls. No selling of your data. Thousands of small donations fund our newsroom and allow us to continue publishing. Can you chip in? We can't do it without you. Thank you.