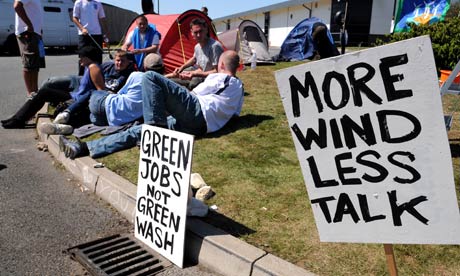 In a rare mobilization of environmental activists, workers and residents on the U.K.'s Isle of Wight, the 10-day occupation of the Vestas wind turbine plant – scheduled to close tomorrow, taking 600 green jobs with it – will gain more support this weekend as thousands of ticketholders to a cancelled climate change festival prepare to join the protest instead. The 25 workers inside the plant, aided by hundreds of supporters outside who throw them treats stuffed inside tennis balls, have defied eviction attempts and pink slips delivered with their food rations. For video inside the plant go here
"The atmosphere is brilliant," said occupier Ian Terry. "We know there are
different groups with different opinions but they're
all singing from the same hymn sheet, and support is just snowballing."