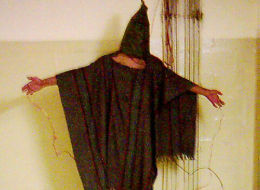 President Obama's reversal on releasing more torture photos – coupled with his reluctance to prosecute – is dismaying evidence his administration is increasingly covering up – not bringing to light, as promised – the crimes of the Bush administration. It's a sad day.
From the ACLU statement on the decision:
"The Obama administration's adoption of the stonewalling tactics and opaque
policies of the Bush administration flies in the face of the president's stated
desire to restore the rule of law, to revive our moral standing in the world and
to lead a transparent government. This decision is particularly disturbing given
the Justice Department's failure to initiate a criminal investigation of torture
crimes under the Bush administration.

Never Miss a Beat.

Get our best delivered to your inbox.

"It is true that these photos would be disturbing; the day we are no longer
disturbed by such repugnant acts would be a sad one. In America, every fact and
document gets known – whether now or years from now. And when these photos do
see the light of day, the outrage will focus not only on the commission of
torture by the Bush administration but on the Obama administration's complicity
in covering them up. Any outrage related to these photos should be due not to
their release but to the very crimes depicted in them. Only by looking squarely
in the mirror, acknowledging the crimes of the past and achieving accountability
can we move forward and ensure that these atrocities are not repeated.

"If the Obama administration continues down this path, it will betray not
only its promises to the American people, but its commitment to this nation's
most fundamental principles..."