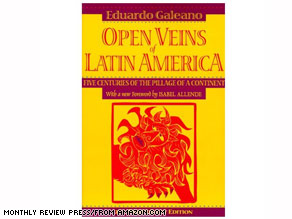 Go figure. The book Venezuelan President Hugo Chavez gave
President Obama at the Summit of the Americas – Eduardo Galeano's "Open
Veins of Latin America: Five Centuries of the Pillage of a Continent" –
was ranked No. 60,280 on Amazon a few days ago, and on Saturday hit No.
14, a jump of 466,378 percent. 
Now, some of us read that book back in the day, and it was great.
We're happy so many people are buying it, and we hope they, and Obama,
read it. Still, in this lemming-like mass culture, we have to wonder:
what if he'd given "The Fountainhead" instead?