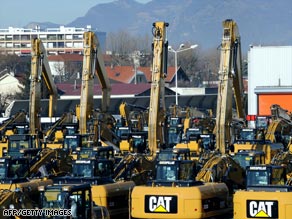 Hundreds of French workers, angry about proposed layoffs at a
Caterpillar plant in Grenoble, are holding company executives hostage in their office. The action marks the third time this month that workers threatened with cutbacks have held their bosses captive  to demand negotiations.
The workers are said to be angry that company officials, who plan to cut more than 700 jobs, have failed to show up at two  negotiating sessions scheduled on the layoffs. The workers, bolstered by about 500 comrades protesting outside, are allowing food to be brought in; no word on the menu.